As a rival to Amazon Kindle, Google Play Books offers millions of excellent books. It also provides a Google Play Books app for tablets and smartphones. However, due to the DRM protection, it's not easy for us to read encrypted Google Play books on eReaders (like Kindle/Kobo/Nook/Sony/ReMarkable). Only if we remove the DRM, we can read Google Play books more freely on any device. Here, I write this blog with the purpose of sharing with you the easiest way to remove DRM from Google Play books with Epubor Ultimate .
How to Remove DRM from Google Play Books?
Step 1. Download Google Play books to computer.
Go to Google Play Books Store and log in with your Google account. All your purchased Google Play books can be found under the tab "My books" at the left column. Under each book title, just click the three dots button and choose "Download EPUB" or "Download PDF" to download the Google Play books.
NOTE: If the book is DRM-free, you will get a real EPUB or PDF ebook, no need to go further. But in more cases, you will get a .ascm file. You need to remove the DRM from such acsm files and convert acsm to real ebook format, otherwise the downloaded file is useless for you. Just keep reading to get a solution.
Step 2. Install Adobe Digital Editions to your computer and click menu Help > Authorize Computer with Adobe ID. Or you can create a new Adobe ID.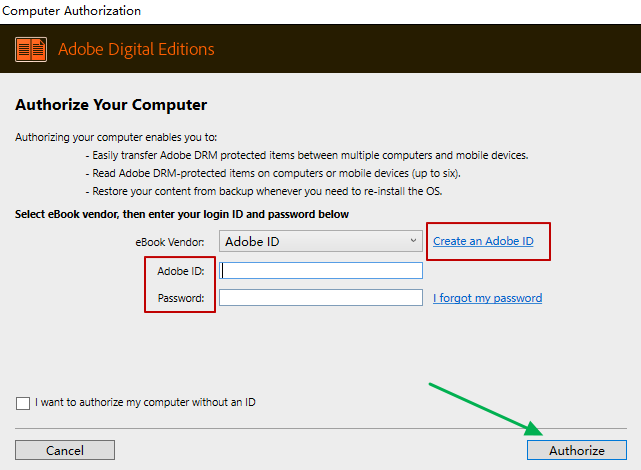 Step 3. Open Google Play ACSM files with Adobe Digital Editions.
Just double-click the .acsm file, it will be automatically opened by ADE and downloaded to PDF/EPUB ebook file. For successfully remove DRM from Google Play books, please make sure you can read them on ADE first .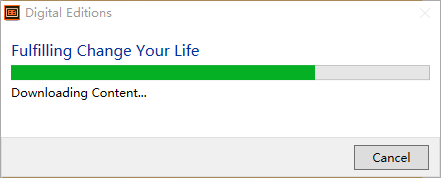 Step 4. Remove DRM from Google Play books with Epubor Ultimate .
All your Google Play books opened with ADE will be automatically detected and display under the "Adobe" tab. Then just drag and drop the books from the left column to the right main window. They will be decrypted in a second. Now you can click the word "Decrypted" to find your DRM-free Google Play books (PDF/EPUB).
After breaking the DRM, now you're be able to read Google Play books on Kobo/Nook/Sony eReaders and any reading apps.
Key Features of Epubor Ultimate :

Epubor Ultimate is the best DRM Removal & eBook Converter to decrypt ebooks.

Epubor Ultimate will not only remove DRM from Google Play books, but also remove Kindle DRM, Kobo DRM, Nook DRM and ADE DRM.

It's much easy to use with clean interface, even automatically detecting devices and loading books.
How to Read Google Play Books on Kindle Paperwhite?
If you want to read Google Play books on Kindle Papewhite or other Kindle eReaders, you just need to take one more step. Just set the output format as Mobi and click on the "Convert to MOBI" button. In a few seconds, the conversion will be completed. All that's left to do is to transfer the converted books to your Kindle Paperwhite via USB connection.
HAPPY LEARNING!