Finder's Gallery view lets you quickly scroll through folders of photos on your Mac with an enhanced preview pane and rich metadata. However, these previews still aren't large enough to check which shots are best. Preview works fine for basic use, but it lacks powerful navigation controls and features that you need for a superior experience.
You don't need a heavy app like Apple Photos or Adobe Lightroom, or one that supports complicated databases, to update and organize your collection while displaying images. We'll show you some of the best photo viewer apps for macOS with unique features, and how you can use them.
1. XnView MP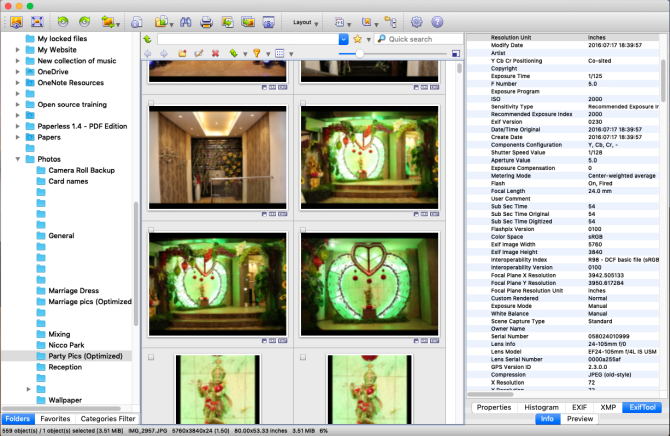 XnView MP is a feature-packed media viewing and cataloging app. It provides many features often found only in paid apps, including tools to classify and sort photos, batch operations for processing multiple images, the ability to edit metadata, and support for 500 image formats.
When you launch the app for the first time, you'll see three panels. To the left is the Finder file system with three section tabs. Folders lets you browse a list of folders on your computer. Photos you like becomes visible in the Favorites . Meanwhile, The Categories Filter tab consists of pre-configured categories that lets you aggregate and label them simultaneously.
The center panel shows thumbnail previews of the images selected from the left. Drag the slider to adjust their size. You can also customize the view type to show more or fewer details. Head to View > View as and select the type. Further, the app lets you sort images by title, date, and file size, or even filter them by rating, labels, comments, or tags.
On the right side, you'll see a preview panel with two section tabs: Info and Preview . Info lets you see file properties, histogram, and EXIF data. Switch to the The Preview panel to check out the image.
Unique Features:
Support of non-standard, old, Photoshop, Corel, Autodesk, and HEIF (High Efficiency Image File Format) file types. It also handles written characters for filenames and folders in different languages.
The app handles the RAW file format and uses your GPU to improve performance, caching, and processing. It also supports full internal bit depth picture of 8/16/32 bits per component.
XnView provides you with many customization options. You can freely arrange the layouts as per your needs. Navigate to View > Layout and choose an option. Or select Free to make your custom layout.
The app integrates with XnConvert to help you convert, batch resize images, and apply different kinds of adjustments. These include rotation, watermarks, filters, fancy effects, and more. You can even undo these file operations.
XnView lets you make custom slideshows and project them to another monitor. You can set up a timer (or keyboard press), screen size, transition effects, and background music.
2. ApolloOne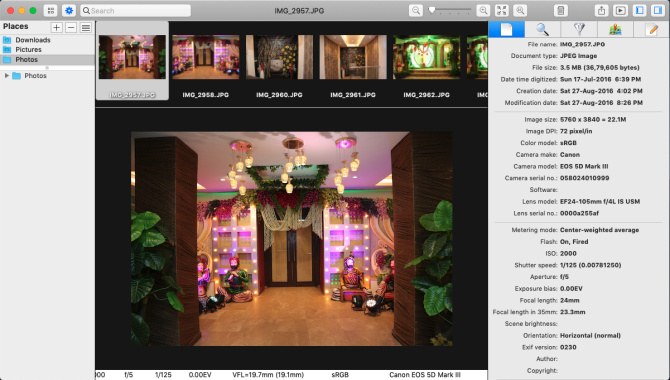 ApolloOne is an intuitive image viewer app that lets you organize and view photos in an efficient way. The app has a built-in camera RAW processing engine so that you can quickly look at images before you import them. The app gives you access to various local and network folders through Places . To configure places, press Cmd + N or click the Browser button on the toolbar.
Click the Plus (+) symbol to add a folder. With a few keystrokes, you can freely browse the contents. To inspect any image, press Cmd + I or click the Inspector button on the toolbar. Here, you can see the details of an image and camera-related information like its serial number, shutter count, and more. ApolloOne has built-in support for thousands of digital cameras.
You can sort images by creation, modification date, file size, and type, or define your custom sort options in either an ascending or descending manner. You can also filter images by tags, ratings, and labels.
The slideshow mode ( Preferences > Slideshow ) shows you photos with 12 different transition effects and loops. You can even set up a playlist to play in the background. To start a slideshow, press F5 ; use F6 to stop it.
Unique Features:
The app features a powerful RAW processing engine that can render RAW images without any delay. It also has a built-in camera RAW decoder, which is useful for quick assessment of RAW files.
ApolloOne uses the GPU to speed up image display. This sacrifices quality for speed to some extent. To improve quality, turn on Preferences > Appearance > High quality image scaling . You don't have to fiddle with these options on newer Macs.
While browsing photos, the app gives you another view of all images like a film strip ( Tools > Show Filmstrip ) across the top of the window. This strip generates from the high-resolution thumbnails of pictures and enhances the navigation experience.
You can also edit the metadata that Spotlight uses for indexing. To do this, edit the Keywords field, and within a few seconds, you can search for images by keywords. ApolloOne fully supports macOS extended attributes, which makes tagging a lot more powerful.
With contact sheet mode ( View > Contact Sheet ), the thumbnails display in a grid fashion. Using this, you can perform file operations in bulk.
3. qView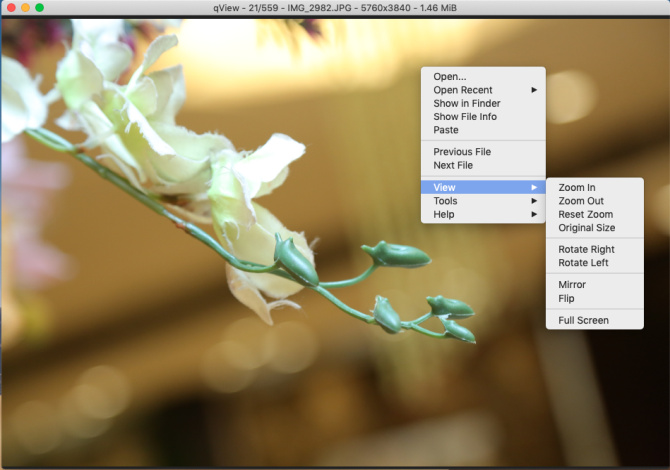 Unique Features:
The app is light on resources. Even when viewing high-resolution pictures, RAM and CPU consumption stays reasonable. With multithreaded preloading, you won't see any delay while navigating across photos.
qView supports GIFs, allowing you to increase or decrease the speed or save a specific frame. Navigate to Tools > GIF Controls to explore the options.
The app lets you view photos in slideshow mode. Go to Preferences > Miscellaneous to access slideshow options. Here, you can customize the timer, preload settings, loop, and slideshow direction.
qView offers you several shortcuts to navigate, access different options, and usability. Go to the qView GitHub page to see the shortcut list.
4. Fragment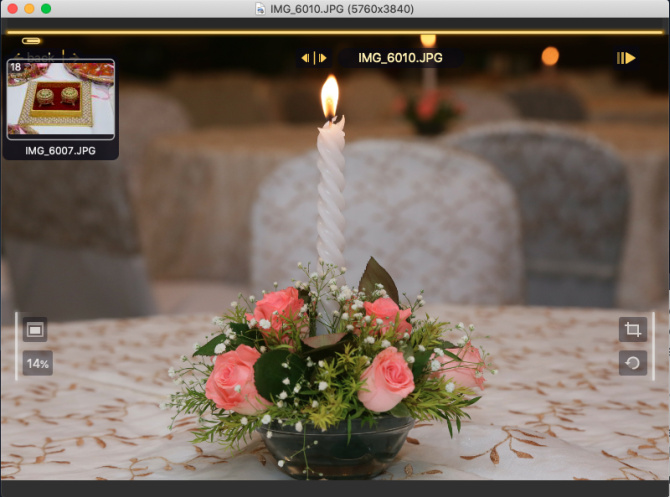 Fragment is a cross-platform image viewer app. It's based around a heads-up display (HUD) interface, similar to a video game, to visually represent data. You won't see any toolbars, menus, or buttons. The controls are overlaid on the screen only when you point at the interface elements with the mouse. What controls you see depends on the position of your mouse on the screen.
To get started, click the no image link and browse to a folder location. When you hover your mouse at the top of the window, you'll see a timeline-type strip of thumbnails. Then, hover your mouse over the side to open edge panels.
The left panel offers different viewing modes. And the right panel lets you crop or rotate the image. At the bottom, you'll see the details of your picture.
Unique Features:
When you hover your mouse at the top, drag the indicator to perform skimming at high speed. This way, you can quickly peek at photos, and when you click on the thumbnail image, it'll directly open that image.
In Preferences , you can set the mouse wheel to either zoom in/out, or browse next/previous images. Also, you can also change the background, window geometry, and other options.
Supports viewing 30 image formats, plus PSD, HDR, PFM, TIFF, and more. The built-in animated GIF viewer has speed control and also lets you save particular frames.
Click the image dropdown button to open the context menu. From there, you can directly share your photo to Facebook, move or copy the image to another location, and see the file properties.
Fragment also offers unique slideshow-related features. There are over 50 transitions with different settings. While the slideshow is playing, you can still navigate, browse, edit, and delete images.
5. Lyn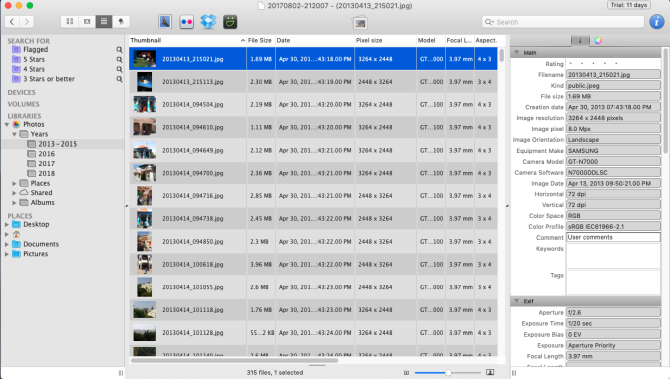 Lyn is a lightweight media organizer and viewer for macOS. It's designed for photographers, graphic artists, and web designers. It supports non-standard, old, and RAW image formats from a wide range of digital cameras. With a camera model Lyn supports, it can load and progressively scale high-resolution images faster.
The app uses the typical folder structure of Finder. In contrast to Photos or Adobe Lightroom, it doesn't use any image library. The database overhead of this procedure slows down the viewing process and also consumes your Mac's resources.
When you launch the app, you'll see three panels. To the left, you'll see the entire folder structure, any smart folders you create, and devices you've connected. The viewer shows the contents of the selected folder, with different view options. Icon view shows the thumbnail view of images, and List view shows a small thumbnail with the image metadata. At the right, you'll see the Inspector panel.
Unique Features:
Lyn supports multi-threading operations to show high-resolution images without any delay. In my testing, it does not consume too many resources.
The app has a built-in color profile management feature. It can detect and apply any color profile specified in the EXIF or Markernote section.
Lyn supports photo libraries stored on an external hard drive. It can attach and browse libraries without any issues.
The app supports non-destructive editing, meaning you can freely crop, rotate, and edit metadata without destroying the original image. The details save in a special file attribute.
You can publish your photos directly to Flickr, Dropbox, and SmugMug.
Although viewing images seems like a simple operation, different people have a variety of use cases. While Preview may work fine for your needs, the apps discussed here cover a wide range of options for different professionals and use cases. You can try all these and see which one fits your needs best.
ENJOY & HAPPY LEARNING!