same problem for me from Bangladesh.
Just try refreshing the page after 2-3 minutes (maybe couple of times if needed). Works for me! I too have been facing it since last 2-3 days.
Don't know why it is showing like that,
but refreshing the page worked.


If the problem still persists, leave the udemy (chrome)tab for a while and then return to check.
It's probably a bug, Refresh page twice I'm sure it works, in fact, many pages at Udemy under FAQ and guidelines have been updated earlier today, maybe the site went through updating or fixing such bugs, you guys can see them visiting help and support. Support
Try back later, else, It's better to contact them instead of pushing it here. it does make sense, if bug belongs to a main site then it's better to push them at the main, other forums has nothing to do with those services.
Good luck!
It's definitely a bug, I'm getting tons of errors from a js file from Udemy in the console.
I also had this error when I was trying to ENROLL into more than 5 courses TODAY and I tried refreshing the page multiple times, it didn't work but when I tried to enroll each course individually then I didn't get that error.TRY ENROLLING EVERY COURSE INDIVIDUALLY.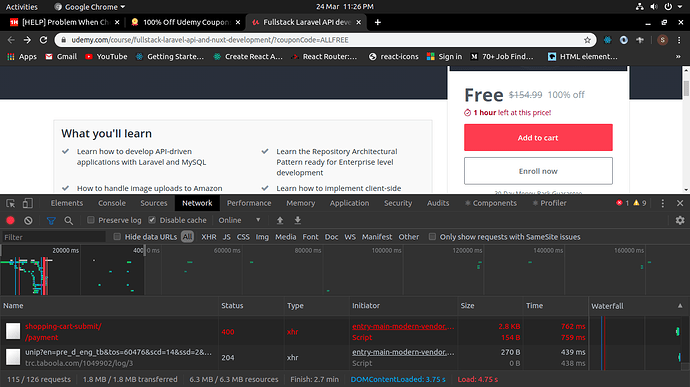 I am facing the same issue upon further inspection the HTTP request shows a error of 400 which is odd because it means something went wrong with the client side (meaning browser) not the server. Waiting and refreshing multiple times does nothing.
Hey Guys,
I was able to login to Udemy via Mobile Chrome Browser and clicked Enrolled and I was successfully able to enrol to courses. Try this method and let me know if it works.

Nothing else worked for me, tried refreshing the checkout page multiple times, retried enrolling for a while ultimately accessing the website using my phone ( chrome browser) worked.
working for me. Try enrolling one course at a time.
if the methods mentioned above are still not working, try to clear browsing data.
It works on me.