You can use modded versions of Official WhatsApp (like GbWhatsApp), which offer variety of features one of which is increase in share limit.
Remember there is a chance of getting banned using unofficial modded versions of WhatsApp,
Use Anti-Ban versions of these apps.
You can use whatsTool apk, light weight and very efficient.
You can do this! You can send up to 1000+ people in one time by using WhatsApp mod APK called GBWhatsApp, Gb WhatsApp is a modded version of Whatsapp Messenger. which has lots of unique features.
Tip:
You cannot forward WhatsApp messages to more than 5 people at a time on Whatsapp messenger. But, there are few tips which help you to accomplish this
Create a WhatsApp broadcast and include all the people to whom you regularly send the messages. However, the people who have not added your WhatsApp number on their mobile phone will not receive a broadcast message.
You can try WhatsApp Mods. Most of the WhatsApp mods have more features than official WhatsApp. Using a WhatsApp mod you can forward messages without restriction
There is no official trick besides broadcasting messages limit or creating a group. recent WhatsApp has made some changes to control over fake messages so they reduced the capacity of messaging more than 5 peoples at once. use the GB version and get rid of it.
Good luck

If your phone is rooted then just patch it with lucky patcher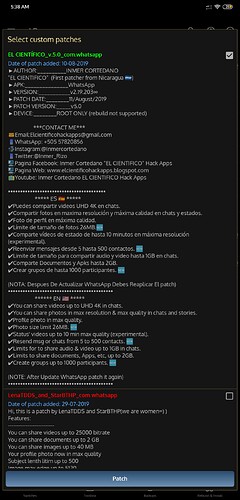 It worked fine for me
(Make sure busy box is already installed )
If rooted , you can also tweak using Xposed framework and Magisk Modules.
how i can find the anti-ban one??
Not working in newer versions of Gb whatapp, they removed feature of broadcast to group

thanks bro
Bro now this feature is not available
Did you checked other modded versions?
Thanks for the detailed article on this topic. I would like to see more such awesome articles from you.
Thanks for sharing this valuable piece of information. Keep sharing more such awesome articles in the future. Goodbye!