Best site to book movie tickets for very low cost.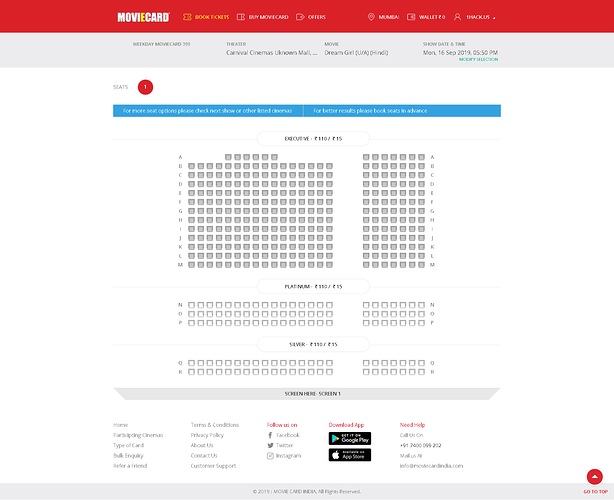 Look at the ticket price! Grab a Monthly pass for INR. 399 Plan per person or sometimes even less in many offers, like paypal cash back and all… Which makes it more cheaper around INR. 90 or so for a Monthly pass… And there are 1000+ Carnival Cinema Screens In India, then after your have you pass with you, then you can buy/book movie tickets at Carnival Cinema a lot cheaper around, per person INR. 15 to Max INR. 30
NOTE: You will get 4 days in a week to book/buy tickets and watch movies in Carnival Cinema theaters and the days are as follows, Mon, Tue, Wed & Thursday only!!! The rest of the days, Fri, Sat & Sun you cannot book/buy tickets from your pass, because it's prime days!!!
About MOVIECARD CONCEPT
What is MoviEcard?
India's first ever movie subscription program where in a patron can watch 'Unlimited New Movies for just Rs 399/-'
It is an E-Card to match India's Vision of Digital India.
This particular card can be used by the consumer across 100 + Carnival properties in the country.
Why MoviEcard?
Movie watching is considered to be one of the largest habit in India .
Plus this MoviEcard allows the consumers to have an access to all 'New Movies' at Cinemas unlike Amazon Prime / Netflix / Hotstar where they showcase 'Latest' movies but not 'New Movies'.
Objective
To increase movie watching as a habit as a result they spend more time in Cinema Halls like they do it in a Mall or a Garden or Amusement Parks.
To give the consumer in Tier II & Tier III cities 'Unlimited access to new movies, where in, money comes later entertainment comes first.
TERMS AND CONDITIONS
Good share @Shyam_Sundar and nice concept. But unfortunately not available in my city. Thanks for sharing though