I accidentally liked someones instagram picture. Is there any working solution for the person not to see when wakes up.
wait let me talk to instagram's CEO
If that is what it takes I would do it

but dont know him
According to https://help.instagram.com/500150933343536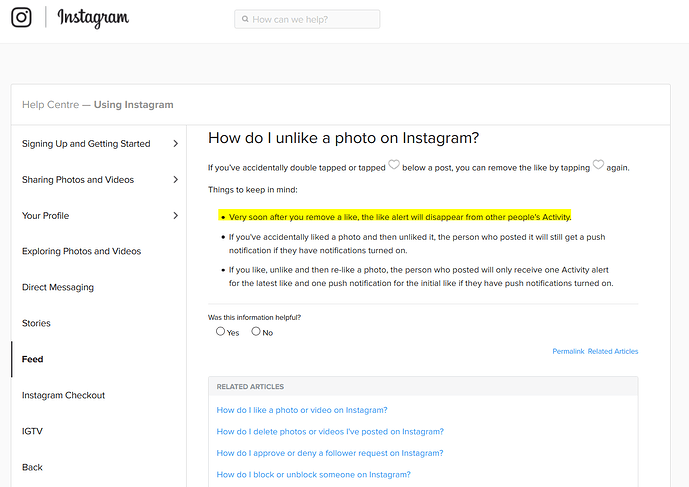 or
Change your name and profile photo
Switch your account to private—if you're public.
Go to your Instagram page and click on the profile icon at the bottom-right corner.
Click on "Edit Profile" at the top of your page.
Change your name, bio and profile photo.
The most effective solution is to delete your Instagram account.
Thanks.
Changing name or profile didint help, tried to see, but the push notification says the name still.
If you've accidentally liked someone's photo on Instagram and their push notifications are enabled, the person who posted the picture will see it. Even if you remove the like right away, it will show. According to Instagram , however, the like alert will disappear shortly after you remove it.
However, as long you un-Like the photo before they open Instagram , they won't see any notification in the app.
But their push notification will still be having the like
@arifapuskitto not fooling anyone here, he provided the correct information.
If they're a good friend, who cares?
If they aren't, Push notification, not a big deal.
You can also research third-party apps, let see if any trick I missed. lol
but reverting push notification I'm not sure an app can do that Instagram ain't that weak because it's not about your push notification, it's someones else. near heard such thing like that according to terms.
Very soon after you remove a like, the like alert will disappear from other people's Activity. If you 've accidentally liked a photo and then unliked it, the person who posted it will still get a push notification if they have notifications turned on.
Optional: You can try this, report that post, block account, then unblock again.
(I saw this trick a while ago at Quora)
Good luck!
Very soon after you remove a like, the like alert will disappear from other people's Activity.