We tried out Outline, a free software developed by Google that allows the average person to easily deploy a VPN to break through the internet censorship here in China — and it WORKED (most VPNs are blocked in China). This step-by-step guide will show you how to setup Outline in China.
Summary
Google's Jigsaw released a free open-source software called " Outline " that let's anyone easily create a VPN on a cloud server. We tested it and here's what we found:
It is easy to setup and works in China — not blocked by the Great Firewall.
Current setup with Digital Ocean cloud servers has decent speeds but not as good as some popular commercial China VPNs.
Doesn't work with Netflix (when using Digital Ocean).
Works with Windows, Android, and Linux, macOS and iOS.
Not a true VPN. It is a Shadowsocks proxy so some apps might not be compatible. It works for most purposes though.
Good for unblocking websites and protecting against surveillance. Not good for anonymity.
One of the drawbacks of living in China is the censored internet. Most expats and travellers will opt to simply purchase a commercial VPN subscription to unblock websites like Google or Facebook.
However, a majority of VPNs are fully blocked or suffer frequent disruptions in China due to the Great Firewall. Furthermore, using commercial VPN services can require a certain level of trust in the company managing the servers. VPN companies will claim they are not logging user usage data , but it can be impossible to know for sure.
Setting up your own VPN?
For the DIY privacy-minded, you can always try to setup your own VPN service, but the home brew route often requires technical knowledge far beyond the average user's ability. Furthermore, basic OpenVPN based VPNs can be automatically blocked by the Great Firewall through deep packet inspection — which is why most VPN apps don't work in China.
Thankfully, now you can, in just a few clicks, create your own VPN with Outline, –a free open source project by Jigsaw (owned by Google). Outline is intended to enable journalists and news organizations to easily deploy their own VPN in order to protect their privacy.
At Startup Living China, we are always on the look out for new ways to improve our internet situation, so naturally we wanted to investigate Outline. Setting up a VPN is one thing, but maintaining a VPN that is fast and won't get blocked by China's Great Firewall is another thing altogether.
So how does Outline fare in China? Does it get past the Great Firewall? This article will show you how to setup a VPN using Outline and detail our performance tests. The setup and tests in the guide were done using a Windows computer in Beijing, China.
Spoilers: Yes, Outline VPN works in China! (but speeds are not the best)
How to setup Outline VPN in China
Go to the Outline website and download and install the Outline Manager . This is the software that will manage the VPN server that your computer or smartphone will connect to. Currently, the Outline Manager is only available for Windows and Linux.
Sign up with a cloud server provider . Outline works with Digital Ocean. The cheapest 5$ USD / month server plan should be more than enough for one person or a small group. This plan allows 500 GB of data bandwidth per month.
Run the Outline manager on your computer. It will ask you to log in using your Digital Ocean account and authorize Outline. You can also opt to sign up for a Digital Ocean account directly through Outline if you want.
Choose a VPN server location . The best VPN servers for China are usually located in Asia or the West Coast U.S since typically have a better peering arrangement with the backbone China ISPs. In our test, we chose San Francisco. You could try Singapore, but you would not be able to access U.S. Netflix if that is the case.
Add an access key — this will act as a password to allow a device to connect to the server. You can create additional keys if you wish to allow more users or devices to connect to your VPN server.
Share the access key. The Outline manager will generate a message with a link that will contain the access key. You can share this link by copying it then using email or chat.
Open the link. Using the device you want to use the VPN with, open the link in the generated message.
Download or open Outline Client. After you download the client software (either from the Outline website or App Store) and have opened the access key link, the client software should automatically detect the Digital Ocean server you created earlier.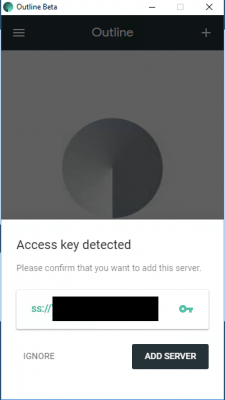 Your VPN should now be ready to use. Just click connect to start. Check to see that it is working by using your browser to open Google, Facebook, or any other blocked website.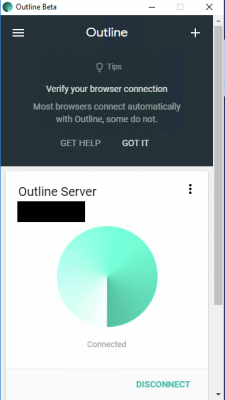 Outline VPN performance in China
Outline works in China! We were able to connect to our Digital Ocean server (SFO) and browse to Google, Youtube, etc. Here are our Speedtest.net ping times, download speed, and upload speeds. We also compare against a well known VPN used here in China.
Outline VPN, San Francisco server, Speedtest.net performance results
Ping: 244 ms
Download: 9.84 Mbps
Upload: 7.32 Mbps
which is not bad at all.
Testing Outline self-hosted VPN server (San Francisco) from Beijing, China. Speedtest.net
For comparison, we ran the same test with a well known VPN used in China, ExpressVPN :
ExpressVPN, Los Angeles Server, Speedtest.net performance results
Ping : 170 ms
Download : 31.07 Mbps
Upload : 4.87 Mbps
which places ExpressVPN firmly ahead of our Outline home brew setup when it comes to download speeds. For uploads, it appears Outline does better, strangely enough. Downloads speeds are generally more important for the average internet user.
Remember the Outline tests were performed using a Digital Ocean server based in San Francisco. Using Outline on a server from a different cloud provider that is better connected (peered) with China ISPs would probably yield better download speeds. However, this modification would require some technical know-how — which would defeat the purpose of Outline's ease of use. Perhaps in the future, Outline could add one-click integration with other cloud providers.
Outline vs ExpressVPN - Speed Test
Tested in Beijing with Windows.
Outline: Digital Ocean Server in San Francisco
ExpressVPN: Los Angeles