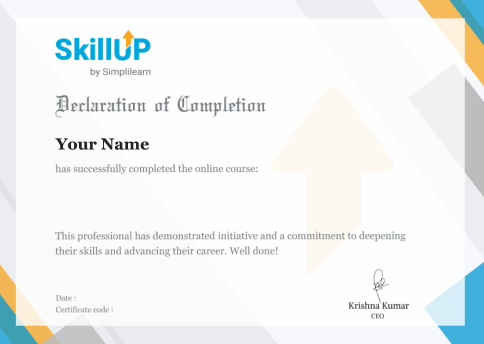 Simplilearn has been a learning platform past few years; they provide quality complete courses. But Now they started a free section where people can learn for free. You have to complete the course in under 60 days; you get a certificate if you meet all quizzes.
Start learning today's most in-demand skills for free
Employees from leading companies worldwide have enrolled with us

Completion certificate awarded on every course completion
Courses focused on building strong foundational skills for career growth
Learn from Industry ExpertsComprehensive self-paced courses created with top practitioners
Free ResourcesFree guides on career paths, salaries, interview tips, and more
Skill-based Learning600+ job-ready skills on offer in today's most in-demand domains
Learn Anytime, AnywhereLearn while working or studying from any place, across any device
(There are many courses in the house free to enroll)
ENJOY & HAPPY LEARNING!
Appreciate the share & feedback! don't be cheap!