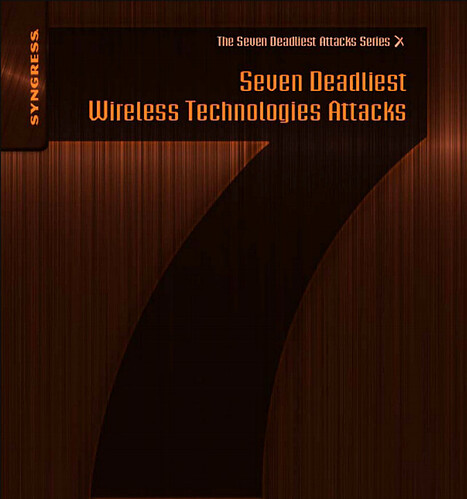 Introduction
Information in This Chapter
• Book Overview and Key Learning Points
• Book Audience
• How This Book Is Organized
Look around any street, business, or home. There is a world of information passing in front of us and through us that many people just don't perceive. Wireless signals are everywhere, passing information between sources at incredible speeds just beyond our vision. We all use dozens of wireless devices in our daily lives, simple things like wireless doorbells that communicate very simple information to modern smart phones that have access to all the knowledge of the Internet. It's when you start to realize the amount of information that is flowing freely past our eyes and that with the right tools, you can see that information that the need for security becomes apparent and the value it has to an attacker.
If you can see this information, who else may be able to? This book attempts to show the implications of this brave new wireless world with seven major attacks against them along with how best to protect yourself and your private information. From Wi-Fi networks and cordless phones to RFID and good old analog, there is no end to the threats from wireless devices.
Content:
Chapter 1 802.11 Wireless – Infrastructure Attacks… 1
How Wireless Networks Work…3
Case Study: TJX Corporation …5
Understanding WEP Cracking …7
How to Crack WEP…8
It Gets Better and Worse …13
WPA and WPA2 in a Nutshell …15
How to Crack WPA PSK and WPA2 PSK…19
Summary …24
Endnotes…24
Chapter 2 Wireless – Client Attacks … 25
Public Hotspot Dangers…26
How Hotspots Work …26
Attacking Public Hotspots…27
The Crux of the Problem…33
Solutions…33
Injection Attacks…34
Replacing Java Script …38
Summary …40
Endnote …41
Chapter 3 Bluetooth Attacks … 43
Bluetooth Technology …44
Hacking Bluetooth …46
Bluetooth Discovery…46
Connecting …48
Carwhisperer …49
Bluebug …50
Wholesale Sniffing…52
Bluetooth Viruses…54
Summary …55
Chapter 4 Radio Frequency Identification Attacks … 57
RFID Basics…58
RFID Systems …58
vi Contents
RFID Risks…60
Physical Access Control…61
Proximity Cards…63
Cloning RFID…66
Minimizing the Risk…68
RFID Meets Crypto…69
Summary …73
Endnotes…73
Chapter 5 Analog Wireless Devices… 75
Analog Devices…76
Digital versus Analog…77
Analog Security…77
Digital Security …78
Cordless and Wireless…78
Exploiting Analog Wireless…78
Audio Vulnerabilities …79
Scanner Selection…80
Headsets…82
Wireless Microphones…82
Video Devices …84
Defense…85
Summary …87
Chapter 6 Bad Encryption … 89
History…90
Proper Encryption …91
Passports…92
Passport Summary…96
Speedpass…97
Advanced WPA and WPA2 Cracking …100
Summary …101
Endnote …102
Chapter 7 Cell Phones, Personal Digital Assistants,
and Other Hybrid Devices … 103
Hybrid Devices…103
History…104
Anatomy of the Attack…105
Jailbreaking …106
The Attacks…112
Future Attacks…113
Contents vii
Offensive Uses of Hybrid Devices…114
Anonymity…116
iPhone Summary …116
Android Security …117
Common Threats…118
Summary …119
Index… 121
Go To Base64 & Decode:
aHR0cHM6Ly9tZWdhLm56L2ZpbGUvWFhBUUhEeFEjbnh5SkNmSWdvZ2dZcXFuTHFYYUh2UHMtc2NFSmVwdnptdHNqb1VxcVlmOA==
Enjoy!