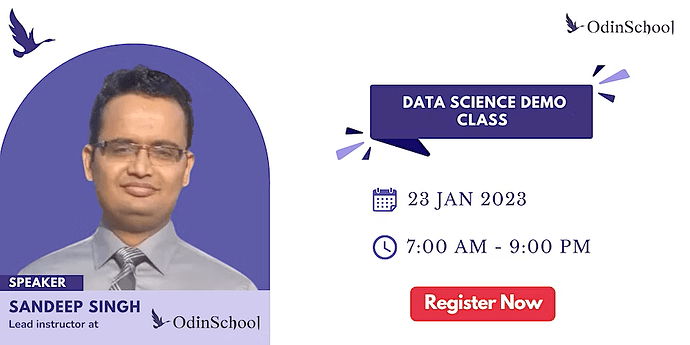 Get a headstart in Data Science by interacting with an experienced Data Scientist. Gather all the information you need to launch your career while you get a feel of our job-aligned Data Science Bootcamp!
Are you fascinated by the potential of Data Science as a career path? Do you seek guidance on the various job roles in Data Science and how you can break into the field?
Attend the Data Science Live Class led by Dr. Sandeep Singh to:
Get an overview of the Data Science industry
Understand the pathways to employment within the data science industry (for non-IT aspirants).
Understand the skill sets that will help you gain a foothold in the industry.
Get familiar with the different industry roles - Data Engineering, Data Analyst, Data Visualization, Machine Learning Engineer, ML Dev Ops, etc.
Clear your queries with the speaker in the Q and A session.
Date & Time: 23 Jan 2023 | 7:00 PM - 9:00 PM
About Speaker:
Name: Dr. Sandeep Singh (LinkedIn)
Designation: Data Scientist
Dr. Sandeep Singh is a Data Scientist who brings 14 years of experience to the table. He earned his Ph.D. from Florida International University, Miami, USA.