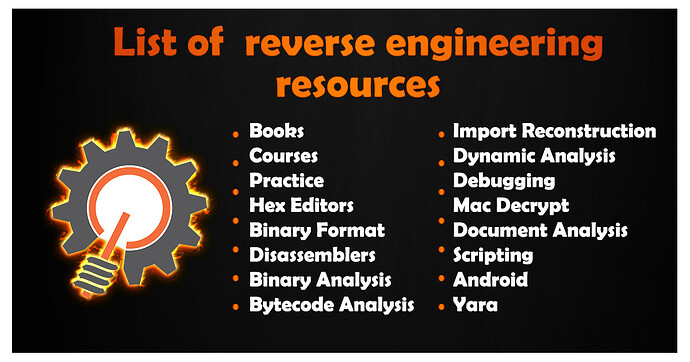 List of awesome reverse engineering resources
A curated list of awesome reversing resources
Books
Reverse Engineering Books
Courses
Reverse Engineering Courses
Practice
Practice Reverse Engineering. Be careful with malware.
Hex Editors
Hex Editors
Binary Format
Binary Format Tools
Disassemblers
Disassemblers
Binary Analysis
Binary Analysis Resources
Bytecode Analysis
Bytecode Analysis Tools
Import Reconstruction
Import Reconstruction Tools
Dynamic Analysis
Dynamic Analysis Tools
Debugging
Debugging Tools
Mac Decrypt
Mac Decrypting Tools
Document Analysis
Document Analysis Tools
Scripting
Scripting
Android
Android tools
Yara
Yara Resources
Android Reverse Engineering
Please have a look at
Source: GitHub
More Resources Of Reverse Engineering & Much More:
Reverse Engineering Resources | Beginners To Intermediate Guide/Links 💯

Awesome Forensics Resources | Almost 300 Open-Source Forensics Tools | 600 Blog Posts About Forens

Most Wanted Resources | PHP | Hacking | Mega Shell | Web Shell | Private & Public Book 💯
HAPPY LEARNING!