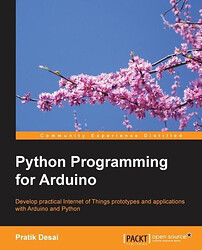 About This Book
Transform your hardware ideas into real-world applications using Arduino and Python
Design and develop hardware prototypes, interactive user interfaces, and cloud-connected applications for your projects
Explore and expand examples to enrich your connected device's applications with this step-by-step guide
Who This Book Is For
This is the book for you if you are a student, hobbyist, developer, or designer with little or no programming and hardware prototyping experience, and you want to develop IoT applications.
If you are a software developer or a hardware designer and want to create connected devices applications, then this book will help you get started.
What You Will Learn
Design and develop your own hardware prototypes using Arduino
Interface Arduino to a computer using the Firmata protocol and Python
Acquire hands-on experience in developing applications for a variety of popular sensors
Develop graphical user interfaces to control your components and plots to visualize sensor data
Access your Arduino prototype from the Internet
Implement messaging protocols for Arduino communication
Connect your hardware project to cloud-based services
Create advanced Internet of Things applications through projects in the book
Happy learning!
DISCLAIMER: No Copyright Infringement Intended, All Rights Reserved to the Actual Owner.

This content has been shared under Educational And Non-Profit Purposes Only.