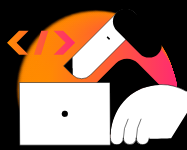 The creators of the Kotlin programming language — the Czech software development company Jetbrains — announced results from their annual "State of the Developer Ecosystem" survey. This year's survey involved 19,696 developers in 18 countries, and found that:
JavaScript is the most used overall programming language. Websites are the most common type of application developers work on.

Python has overtaken Java in the list of programming languages used in the last 12 months. And it is also the most studied language. In the last 12 months 30% of respondents have started or continued to learn Python — even more than last year.

Go, Kotlin, and Python are the top 3 languages developers are planning to adopt or migrate to.
JetBrains also gathered some statistics from programmers for a special section on Lifestyle and Fun:
65% said they preferred laptops, while 33% preferred desktops.
52% said they contributed to charity.
20% said they owned a cat; another 20% said they owned a dog.
16% said they owned cryptocurrency.
And when asked if they contributed to open-source projects:
44% said "No, but I would like to."
20% said "I have only contributed a few times."
16% said "Yes, from time to time (several times a year)."
11% said "Yes, regularly (at least once a month)."
4% said "No, and I would not like to."
3% said "I work full-time on open-source code and get paid for it."
2% said "I work full-time on open-source code but do not get paid for it."
Also interesting were the answers to the question: If your country's government replaced your courts with AI, would you trust it? The results were:
Probably not (26%)
Definitely not (24%)
Maybe (26%)
Probably yes (20%)
Definitely yes (5%)