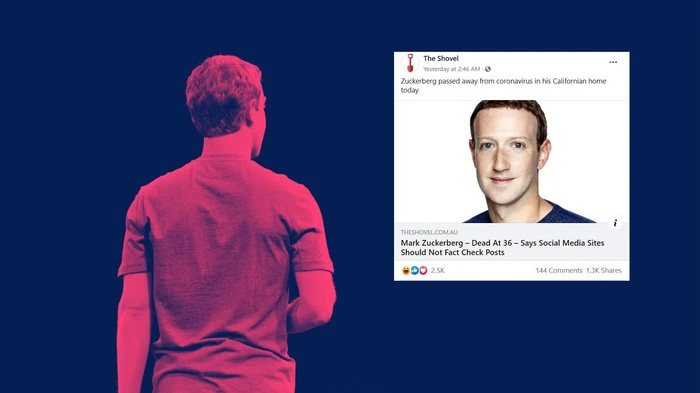 "I don't think that Facebook or internet platforms in general should be arbiters of truth," CEO Mark Zuckerberg said Thursday.
Since then, Vice reports, "Fake news about Facebook CEO Mark Zuckerberg is being shared widely on the internet, including on his own social network…" Zuckerberg's quote is particularly confusing because Facebook does fact-check some news posts, and uses a byzantine, third-party system to do so. Nonetheless, Donald Trump later quoted Zuckerberg's favorable response in a tweet. Now, two satirical articles by websites with Australian domain names are going viral on Facebook, spreading misinformation about Zuckerberg and calling attention to his stance against fact checking by social media companies.
The first article, posted on Thursday by a site called The Chaser, is titled "'Social media should not fact check posts,' says child molester Mark Zuckerberg," which also baselessly alleges that the CEO likes black jellybeans. It has more than 200,000 interactions on Facebook, according to the Facebook-owned analytics platform Crowdtangle. This article has also gone viral on Twitter, where The Chaser's tweet has amassed more than 4,000 retweets.
Another article, also posted on Thursday from a site called The Shovel, is titled "Mark Zuckerberg — Dead at 36 — Says Social Media Should Not Fact Check Posts." This post has nearly 50,000 interactions on Facebook and is also viral on Twitter.