How to sign up for a free Office 365 Education Account (A1 Plus)
What's Different : Office365 Account via TempMail (A1) includes only Web Version whereas A1 Plus includes Desktop version of Office365

No EDU Mail Necessary
This way you will activate Office 365 ProPlus for 10 computers + 5TB OneDrive
STEP 1: Visit the following mailbox link and create any username. You can create a username of your choice.) Click on the " Set " box.

STEP 2: Keep the current tab the same, Open a New Tab and go to the registration page for the Microsoft Office Education account .
Important
Enter the email you just created in the previous step, the mail will look like: [email protected]

Note when entering the following mail is @stu.mao.office.gy NOT chacuo(.)net or 027168(.)com
STEP 3: Select 'Student'. Enter the name and password you want to create.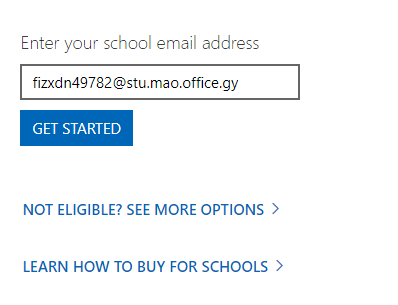 Refresh the mail generated in Step 1 to receive the verification code from Microsoft. Enter the verification code to sign up for Office 365 Education. (This step may take a few seconds or minutes to get a code. Please be patient.)

STEP 4: After successful registration, you need to verify your email address and or personal phone number so you can secure your account.
When 'Finish' appears, Close THAT TAB
STEP 5: Continue to log in to the following address and click join the Office 365 & Nruan.com Group (IMPORTANT)

Provide any info like : Request for Office 365 ProPlus etc…
The request will mostly be Auto-Approved.
STEP 6: After successfully joining the group, return to the tab open in Step 4 and log out of the Office 365 account you just registered.
Note: After logging out, close all open tabs.
STEP 7: Visit the following link when you log in to your recently logged out Office 365 account.
Go to: My Account -> Subscription.
If you see this :
If you don't, Repeat from
Step 5
Proof :
OneDrive
Office 365 Desktop :

Note :
Closing Tabs, Logging Out etc are important, I had to try more than once step by step to complete the activation. Also TempMail might be bit slow to recieve code…
Do Not Abuse ths trick and create multiple accounts at same time, BECAUSE IF ADMIN detects that you are abusing, you will be locked out of any time to respect the people of SHARED Subscription.
Use OneDrive storage for Non-personal Use… (Subject to Audit)
To install Office 365 to the computer. You can refer to the article Instructions for installing Office 365 manually with Office 2013-2019 C2R Tool
Credits to original devolopers and admin for all contents posted…
Its great to see people share ideas in a healthy environment like these. Be sure to support and reply for more info.