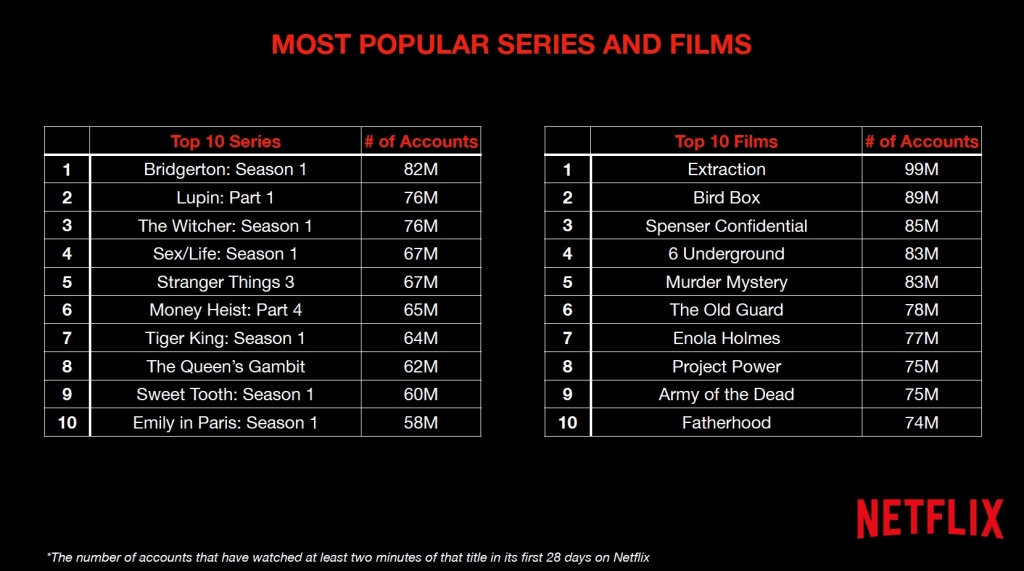 Netflix's co-CEO revealed a list Monday showing its top shows and movies of all-time, reports NBC News. The list revealed that the 19th-century drama Bridgerton "was its most watched TV series ever, with 82 million subscribers tuning in for at least two minutes in its first 28 days on the service…"
French series "Lupin: Part 1" and season one of "The Witcher," a fantasy series starring Henry Cavill, tied for second on the list, with 76 million accounts.
Among movies, the action film Extraction earned the No. 1 spot. The film about a captured CIA agent was watched by 99 million accounts in the first 28 days, Netflix said. Bird Box, a post-apocalyptic horror film, and the action-comedy Spenser Confidential were the second- and third-most popular films, according to the company.
All the films and series on the list were Netflix originals.
Using a different metric — which shows attracted the most hours of actual viewing time — Bridgerton still came in #1 for TV shows, followed by "Money Heist: Part 4" and "Stranger Things Season 3."
And the top three movies (based on hours of viewing) were Bird Box , Extraction , and Martin Scorsese's The Irishman .