Are you ready to discover our best performing method to make money on YouTube without making videos? Today, we are going to dive into the world of artificial intelligence and how it can transform your YouTube channel into a profitable source of income without the need for video creation.
We can promise you that what we are going to cover in this article is one of the fastest and most effective methods to kickstart your journey towards making money on YouTube without creating videos.
In this article we will provide you with a step-by-step guide, giving you all the tools you need to start making serious money online, potentially reaching four or even five figures a month, all while skipping the traditional video production process that includes sitting in front of a camera or filming content yourself .
Let's look at some examples…
Before we dive into the details, let's address the skeptics who may doubt the possibility of making money online with YouTube. Let's take a look at some examples that will shatter any doubts.
The first piece of evidence comes from a relatively new channel called "Cash AI." Their first video, posted in April 2023, has reached over 500,000 views. Impressively, this channel has gotten over 600,000 views in total.The growth that this channel has experienced is not simply luck; it's a living proof to the potential of AI-driven content creation, which lets YOU make money on YouTube without making videos.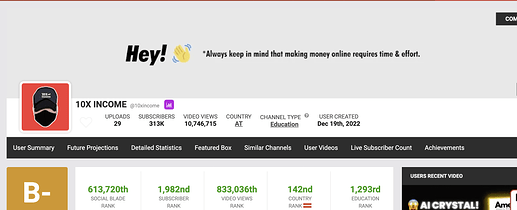 Are you not convinced yet? Well "Cash AI" is not the only example. Take, for example, the channel "10x Income" This channel specializes in AI-generated content and has reached a subscriber count of over 300,000. According to Social Blade, 10x Income is earning well over ten thousand dollars a month only by posting AI-generated content on YouTube. The purpose of highlighting these channels is to prove that this incredible opportunity is within your reach, even if you're a beginner just starting with your AI-powered YouTube journey.
Today, we'll guide you through the process, and what sets us apart is our ability to help you achieve these results in a shorter amount of the time that these channels took. While they may have engaged in video editing, scriptwriting, and thumbnail creation, we'll introduce you to a groundbreaking tool, powered by AI, which can handle all these tasks for you. Stick with us through this article, and you'll be surprised by what you're about to learn.
How to Make Money on YouTube without Making Videos?
Step 1: Choose Your Niche
The first step in your journey to YouTube success is selecting the right niche for your channel. Your niche is the category or space on YouTube that you are going to make your content about.
Here's a crucial tip: choose a niche where you can promote products with the potential to earn you more than $500, all while you make money on YouTube without making videos. This strategy goes beyond relying only on the YouTube Partner Program; instead, it uses the power of affiliate marketing to promote relevant products in your video descriptions and start generating income right away.
If you're new to affiliate marketing, it's a straightforward business model where you partner with a company offering a service or product. They provide you with a referral link, and when someone makes a purchase through your link, you earn a commission. This approach is one of the fastest and easiest ways to make money on YouTube without making videos before you become eligible for the YouTube Partner Program.
Here are some excellent niche ideas that you should consider:
Gaming
Technology
Make Money Online
Travel
Software Reviews
If you're unsure which niche to pursue, do some research by searching for "best niches on YouTube for affiliate marketing" to access a list of niches that will help you to make money on YouTube without making videos immediately. For the purpose of this tutorial, let's choose the travel niche, as it offers various high-paying affiliate programs that can yield commissions ranging from $40 to $80.
Step 2: AI-Powered Video Creation
Now, let's move on to the fun part: creating your YouTube videos. We are going to be done with this task in under two minutes, thanks to a groundbreaking AI-powered software called InVideo AI. This software will revolutionize your content creation process, allowing you to make money on YouTube without making videos.
Upon accessing the InVideo AI dashboard, you'll be asked to provide a topic for your video. This step is crucial, as the quality of your video depends on the specificity of your input. For our example in the travel niche, we'll request a video on "The Best Summer Vacation Ideas for 2023." This is a specific topic given the current season and high demand for travel-related content which is an important step to make money on YouTube without making videos. We can't stress enough how important it is to do some prior research and topic brainstorming with tools like ChatGPT.
Once you've entered your prompt related to your niche, click "Generate Video," and witness the magic unfold. In just a couple of moments, InVideo AI will provide you with a video title, for example "The Top Summer Vacation Ideas for 2023". It will also allow you to edit your video's look and feel and specify the target audience and platform.
Moving forward, InVideo AI will create a script, generate a voiceover using artificial intelligence, and use relevant images, saving you an enormous amount of time. As you can see, the video generated by the AI is of high quality, complete with a human-like voiceover, engaging script, and pertinent images.
Step 3: Explore Affiliate Programs
Once your AI-generated video is ready, it's time to explore affiliate programs that are suitable for your niche, enabling you to make money on YouTube without making videos. Head over to Google and search for "best affiliate programs for [your niche]."
In our example case, we'll search for "best travel affiliate programs 2023."
Browse through the search results to discover affiliate programs that offer competitive commissions. For instance, "Booking.com" is a top choice in the travel niche, providing high commission rates. Imagine promoting a luxury hotel or Airbnb rental for a few thousand dollars and earning a $500 commission. It's completely doable!
To join an affiliate program, click on the provided link, and follow the registration process. Once you're approved as an affiliate, you'll receive referral links that you can include in your video descriptions, allowing you to make money on YouTube without making videos.
Step 4: Upload Your AI-Generated Content
The final and most important step is uploading your AI-generated videos onto the YouTube platform.
This process is pretty straightforward:
Make sure that you have set up your niche channel with a banner, logo, and channel description.
Click the "Upload" button on YouTube.
Drag and drop your video onto YouTube for uploading.
Once the video is uploaded, fill in the required details to make sure your video is discoverable on the platform. Add your video title, description, and tags.
Here's a pro tip: include your affiliate links in the video description so that viewers can easily access the products or services you're promoting and allow you to make money on YouTube without making videos.
In the description, provide useful information about the locations or products featured in your video. Include your affiliate links, helping viewers to book their dream travel experiences through your links.
Additionally, create an eye-catching thumbnail for your video, which is critical when making money on YouTube. Consider using AI-generated thumbnails, such as those produced by "Mid Journey," to capture viewers' attention and increase click-through rates.
Another great tool for creating the perfect YouTube thumbnails is Kittl – they offer a lot of great templates which will make your journey to make money on youtube without making videos extremely easy and almost fully automated.
The Key to Success: Consistency
While you're unlikely to achieve instant fame and fortune with a single video, the key to success in this business is consistency. Even when you're not receiving a huge amount of views initially, keep posting two to three videos per week, if not daily, and eventually you will start to make money on YouTube without making videos the old-fashioned way and spending hours of time. The more content you produce, the greater your chances of gaining viewers and earning money through affiliate commissions.
Remember that hard work and consistency are the unbeatable ingredients for success, particularly when you are on a road to make money on YouTube without making videos. If you don't give up and stick to this strategy, it's nearly impossible to fail. Your dedication will eventually pay off, and as your videos gain more views, you will become eligible for the YouTube Partner Program, which will further boost your earnings.
In conclusion, this method offers a game-changing approach when it comes to learning how to make money on YouTube without making videos, by promoting various affiliate programs. The combination of AI-generated content and strategic affiliate marketing will lead you to an income that can help you quit your job and start other businesses, especially when you consistently create and upload videos in your chosen niche.
Are you ready to embark on this exciting journey of AI-powered content creation and affiliate marketing, allowing you to make money on YouTube without making videos? Sky is the limit! The potential is extremely high. Remember, the power of AI is here to assist you every step of the way.
So, take action, stay consistent, and watch your YouTube channel transform into a thriving source of income. That's how you make money on YouTube without making videos. Your success is waiting for you to take the first step.
Source: domivate
Happy learning!