So, I will start with my story.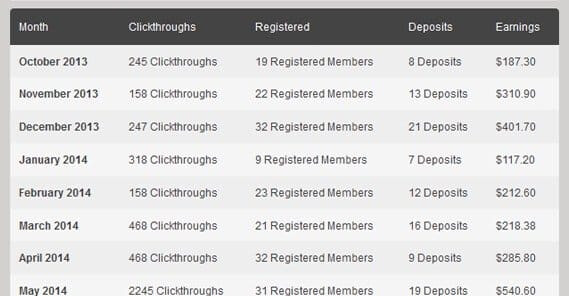 2 years ago I started my wordpress themes site (it's down now) and I started sharing some themes from internet, plugins and stuff.
When I started with this business I realized that every wordpress theme company (site like Themeforest) have their own Affiliate program.
They will basically let you register for free, give you banners and everything and if you send someone to buy their themes you will get 20-70% (some sites will give you more, some of them will give you less).
So I started promoting this, and this method was one of my main reasons why I started with IM and affiliate marketing.
I started with 3 companies, I started promoting their themes on Reddit, Forums and stuff and I made few sales, maybe 5 sales in a week, so that was some nice income (100$ per week) for 2 hours of work.
After that I invested maybe 20$ per day in Ad space on blogs, forums, Adwords, Bind Ads, and I started making 4-5X my investment.
So I came up with this method, and, it's kinda simple, so you will think that this is not going to work for you, but invest 30$ and try, believe me.
STEP 1:
Find some Wordpress themes company (ex. Themeforest, ElegantThemes…) and register as an affiliate, it's free.
STEP 2:
Download their banners (most of them will give you free banners) and if they don't you can create your own banners in Photoshop.
STEP 3:
Find blogs and forums with some of these topics: Wordpress, Internet marketing, SEO or Blogging and buy AD space there, if you find some nice forum buy Signature space there, and you can buy Ad space on forums too.
Buy Bing ads and Adwords ads, buy 20$ Reddit Ads.
(If you have some money try investing 100$ in this method, you will get few sales, and you will get at least 150-200$ commission)
STEP 4:
Insert your Affiliate banners in that Ad space.
If you create your own banner, use this code to add it in your Ad space:
and if you use some default company banners just insert it there.
STEP 5:
Wait for clicks on your AD and spend your money on more great ideas.
FAQ:
Why would someone even buy something through my affiliate link?
People who are looking for wordpress themes, will buy wordpress themes, and they don't know if it's your affiliate link.
Just like people looking for mobile phones are probably interested in buying one.
How much money can I make with this method?
More investment = More reach = More clicks = More sales = More commission
On average, you will make 2X your investment.
So, if you invest 20$ in ads you will make 40$.
Thank you for reading once again, I will try to help you with new methods every week.