No refund on IPTV plans! If you have any issues, we can try to fix them, and if not, we will replace you with another product.
Watch All Your TV Channels & VOD (Video On Demand) in One place
Mr.Brilliant's IPTV with access to tens of thousands of worldwide channels, and the latest video-on-demand daily update
---
PRICING! | Our IPTV subscriptions
Discover our IPTV offers, more than 10,000 FHD/HD/SD channels.
We offer you a very large variety of channel packages.
If you buy 12 Months Plan, billed $60, that will be $5 Per Month
If you buy 6 Months Plan, billed $40, that will be $6.6 Per Month
If you buy 3 Months Plan, billed $30, that will be $10 Per Month
If you buy 1 Month Plan, billed $20 for a Month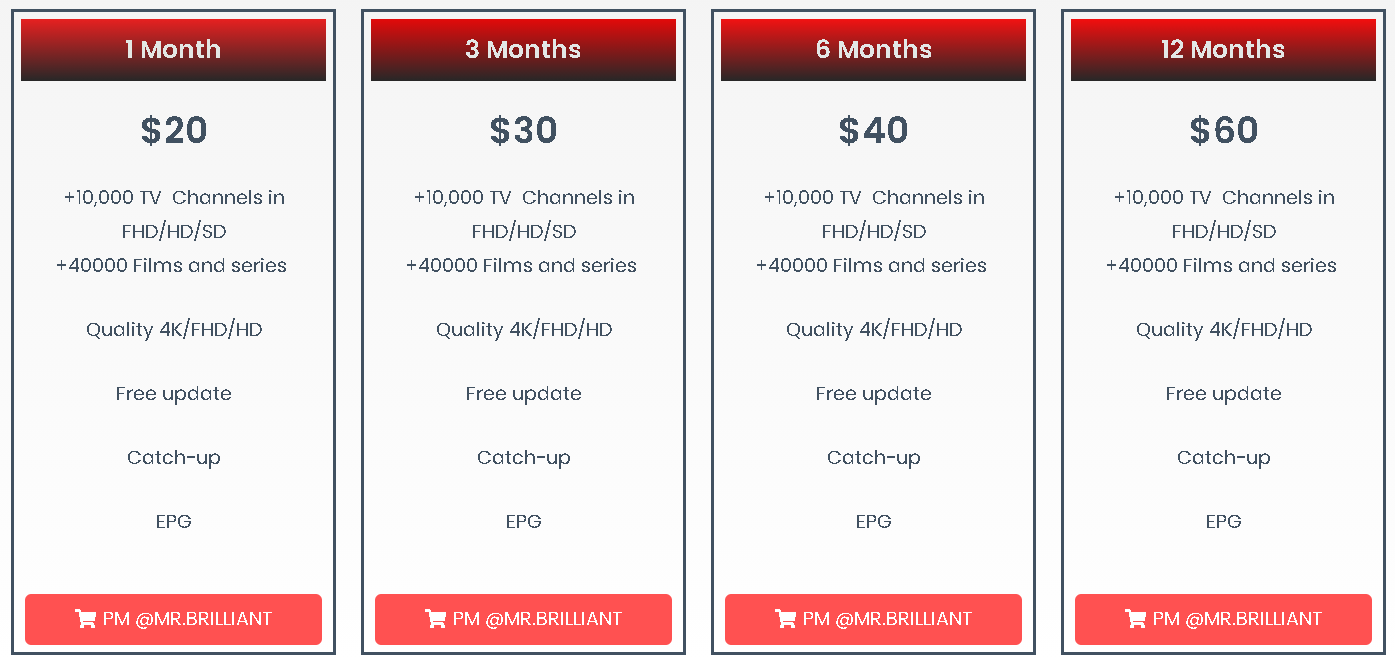 ---
Why Mr.Brilliant's IPTV Service?​
We have a high quality IPTV subscription provider with many years of experience, we have a playlist of more than 10,000 channels in 4K, Full HD, HD & HEVC & + 40,000 VODS of movies and series up to date, the FIRST IPTV Pro servers are powerful and stable which will ensure you a better quality when viewing channels & VOD in FHD without cuts.
Search Your most favorite TV Channels, check if it is available or not?
NOTE: That We Constantly Add New Channels And The List Bellow Doesn't Include All Of What We Have At The Moment, If You're Interested In Channels You Didn't Find Here Send To Our PM @Mr.Brilliant The Channels Names & Our Team Will Verify If They Are Available.
You can optimize your subscription by the countries you are interested in and the languages of the VODs you want
We have +10K channels, what you need will be there already! But, If your channel isn't listed, don't worry! PM @Mr.Brilliant we will let you know if we can source for you.
More than

10,000 TV Channels

with

4K/FHD/HD/SD

40,000 VODS

4K/FHD/HD Multilingual Films and Series
Stable and High-Performance Servers
EPG & Logos included automatically
Regularly updated and improved content
Catch-up for most popular channels
Our IPTV Service is

Always Up 99.99%

of the Time!
Solid IPTV Service,

Without Buffering & Freezing

(Stable Internet Required).
Easy To Install.
You Get 7/7 Customer Service.
---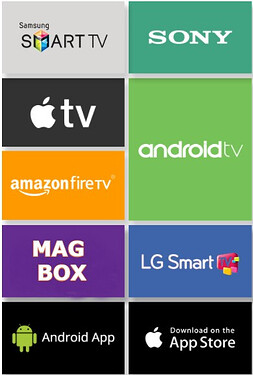 Our IPTV subscription is compatible with all Smart TV, Android/iOS, Firestick, MAG Box and PC, Windows, MacBook, Tablet, iPad, iPhone & many other media devices that supports m3u & Xtream codes.
---
Get Channels From All The Countries Around The World
---
First IPTV Pro offers more than 10,000 channels from all around the world in one IPTV subscription plan, with the Best quality & price!!!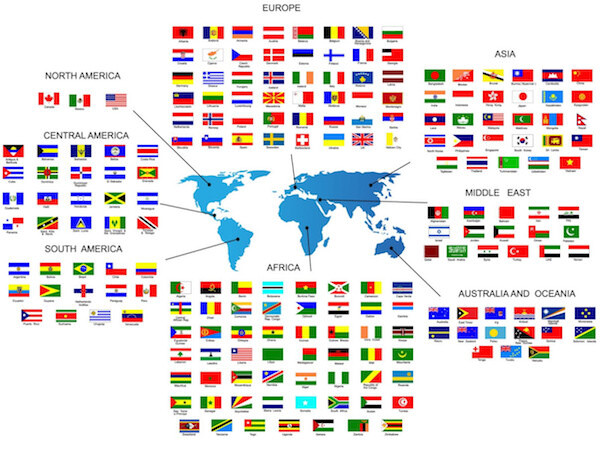 ---
Unlimited Movies and TV Series
Enjoy the latest movies and series directly. Access an unlimited catalog of movies and series, with the latest movie and series releases.
---
From Mobile Device Screenshots!
---
From PC/Laptop Screenshots!
---
What you will receive from us!
You'll Receive an Email Ready to use, with Outlook login
Xtreme code + Username + Password + URL/Port + M3U link
---
---
---
Q. WHAT IS IPTV ?
A. IPTV is a protocol that allows you to have television in your home through the Internet. All you need is an Intranet connection.
Q. WHAT DO I NEED TO USE IPTV ?
A. To install and use IPTV, you need the following items: Broadband Internet connection (recommended or higher) at least 8.0 Mbps. A Smart TV that works, android phone….
Q. WILL IT WORK WHERE I LIVE?
A. Absolutely, our service requires only an Internet connection to work, wherever you are on earth.
Q. CAN I BUY IPTV IF I DO NOT HAVE SATELLITE SERVICE ?
A. Yes, you can purchase and use IPTV if you are not eligible for a satellite television service. Since IPTV broadcasts international programs to your TV via the Internet, no satellite dish is required. In addition, you must have a broadband Internet connection of at least 4 Mbps or higher.
Q. CAN I USE MY SUBSCRIPTION ON MORE THAN ONE DEVICE ?
A. Please note that a single subscription can be used on multiple devices, but you can only watch on one device at a time.
Q. WHAT IS THE SMART IPTV APPLICATION?
A. It is an independent application that serves as a receiver and player for the stream of channels we provide via our servers on a smart TV.
Q. WHAT IS THE M3U FILE?
A. The m3u file is a file format that is intended to store a list of addresses, usually of audio and/or video files. For us, the channels, VOD and other contents that we provide you with.
Q. DO YOU HAVE "THIS" CHANNEL AVAILABLE IN THIS LANGUAGE?

:
A. We have +10K channels, what you need will be there already! But, still if you wanna know, PM @Mr.Brilliant , we will let you know!

Q. IS IT PRIVATE ACCOUNT?
A. Yes, fully private!

Q. I WANT TO RENEW MY SUBSCRIPTION?
A. PM @Mr.Brilliant we will extent your subscription time period.
Q. WHAT WILL BE THE DELIVERY TIME?
A. Subscriptions are delivered within 48 hours.
---
Refund Policy
No refund once activated! Its private subscription on our servers! Not any kinda cracked/hacked stuff.
Still if you get stuck, no problem! We are here to solve your problem.