In your professional life email is probably one of the most important means of communication. You do it on a daily basis and if you're anything like me, you're drowning in it.
Sure, you can dedicate a certain hour or two a day specifically to managing your email. But if you spend 10 minutes or longer on every reply, email will soon take over your whole day – and turning Gmail notifications off isn't going to save you.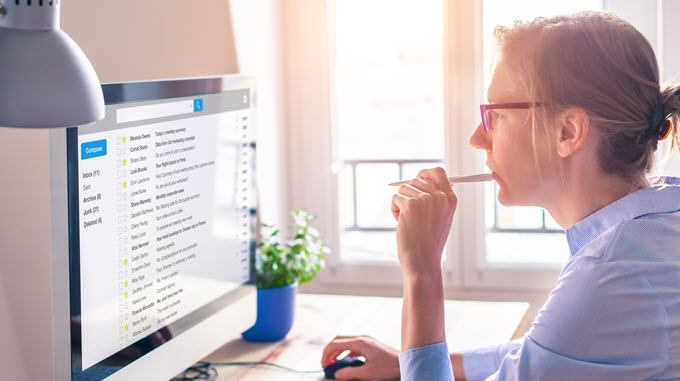 That's why learning to write professional emails that get replies AND don't take longer than a few minutes to write is essential. Luckily, today you don't have to be a great writer or a productivity guru to accomplish that. It's all about finding the right strategy and a set of tools to go with it.
Set Up Email Templates (Canned Responses)
Creating email templates is a great way to save time for those that often get the same questions or comments via email. Take a day to set up canned responses and you will no longer have to write the same replies ten times a day. Both Gmail and Outlook have this feature, which will help you save time and automate your email for free.
Here's how to set up professional email templates in Gmail in just a few clicks:
After logging in to your account, click the gear icon and select Settings .
Then go to Advanced and click Enable next to the Templates option. Scroll down to the bottom of the page to save the changes.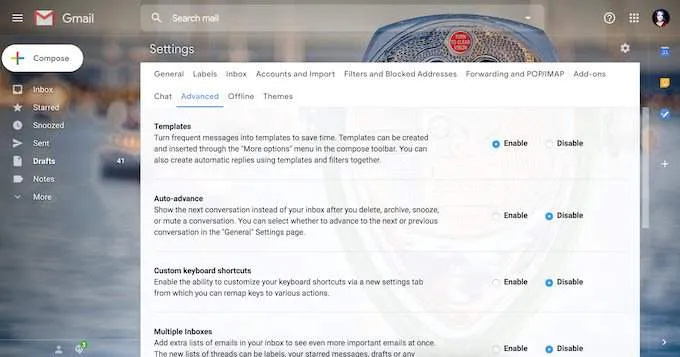 Now you can start working on your own email templates. Type the text you want to save into a new email. Then click three vertical dots at the bottom-right and choose Templates to save your draft as template.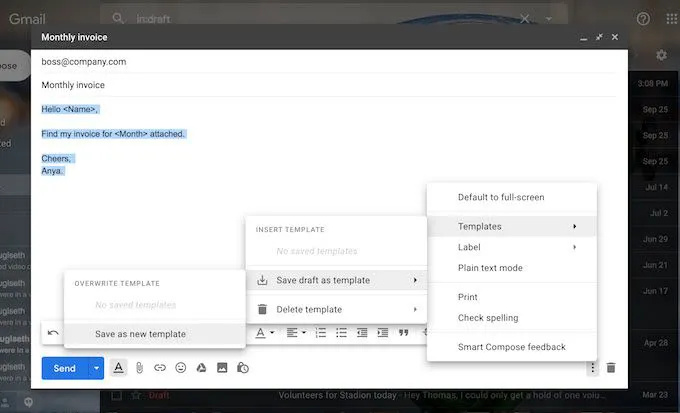 You can create templates for responses that contain long paragraphs as well as quick 2-3 sentence replies. You'll be surprised at how much time those will save you in the future.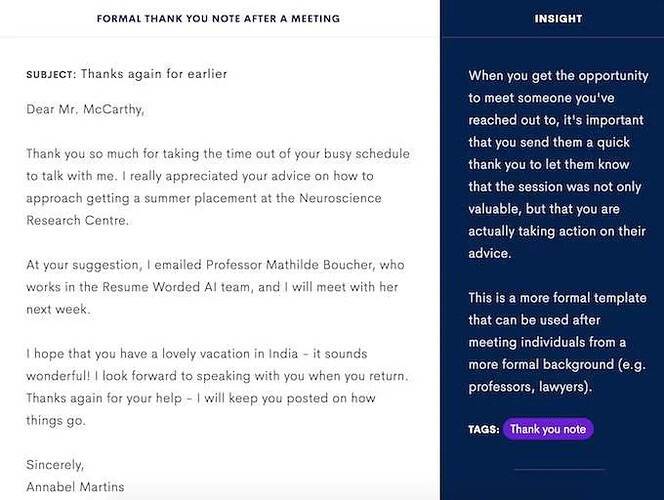 In case your problem isn't using the email templates but creating them, give Networking Emails a shot. It's a web tool with dozens of email templates that can help you grow your professional network.
Created by Resume Worded, Networking Emails is a great resource for optimizing your communication. Some examples of the templates they offer include cold/warm introductions, following up with a non-responder, and even writing thank you notes.
Each template also comes with useful tips and suggestions that can further improve your communication with the recipient.
You can use the search button or browse through the list to find the right email. Then all that's left to do is copy-paste it into your message box and change a few details.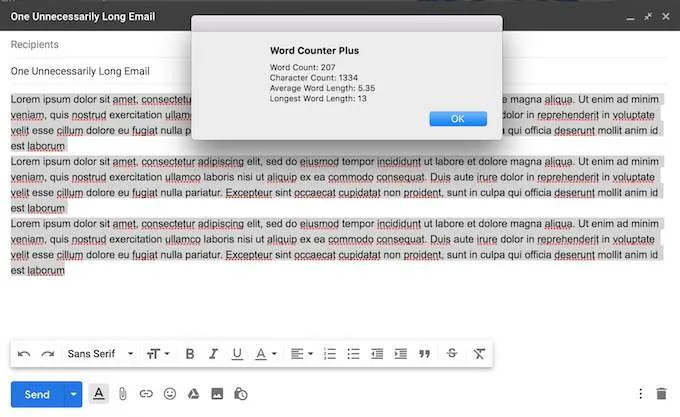 If you're someone who writes more than 10 emails a day, it's essential to keep some of them short and sweet. So if you often end up with emails that are way too long, you might want to consider using a word counter tool to stop yourself. A Chrome extension Word Counter Plus can do the job for you.
Highlight the text in your email and get the number of words and characters you used in one click. Then you can proceed to either continue writing your email or wrap it up before it becomes a two-parter.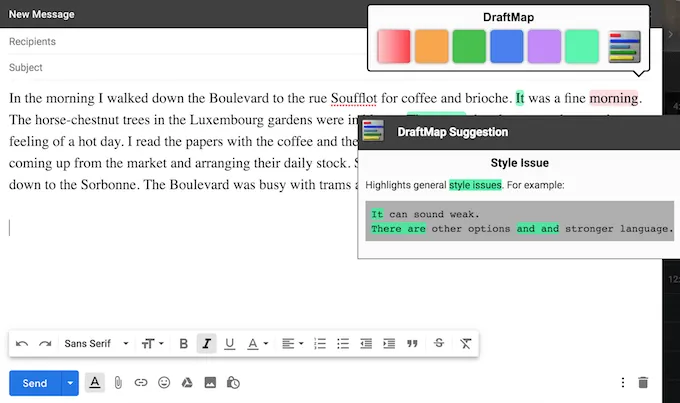 You can find many great tools that can help you write better and thus cut down the time you spend proofreading and rewriting your emails. DraftMap is one of them. Think Grammarly or Hemingway, plus it also checks for unnecessary word repetition and helps you stick to one writing style.
This Chrome extension gives you real-time suggestions on your writing that are color-coded. It will help you avoid using passive voice, typos, cliches, as well as advice on your email's readability. All suggestions are based on Ernest Hemingway's rules of writing. DraftMap is especially handy as all the processes happen right inside your email composition box.
Don't worry if you still have highlighted words after you're finished editing your email. The recipient won't see the colors, the suggestions are only visible to you.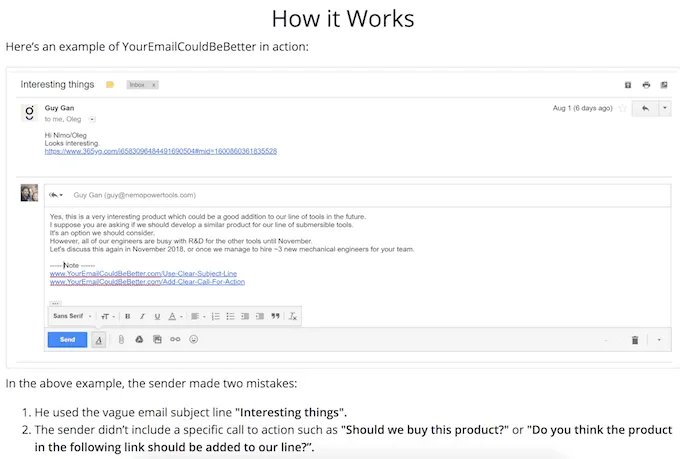 Your Email Could Be Better is an online tool designed to reduce the time you spend managing emails by educating everyone on the best email practices.
When composing a professional email you follow certain rules. Like making sure your message has a clear subject line or leaving out unnecessary attachments. You'll be surprised by how often people break these rules, which ultimately results with both parties spending more time and effort.
Your Email Could Be Better has a list of 10 common faults. Each of the points comes with an explanation and examples of how to better your email. This can come in handy in case you'd like to tell your colleagues about those rules but don't know how to do it. You can either use your own words or send them a link to Your Email Could Be Better to illustrate your point.
We all wish our email became entirely automated and didn't require any attention at all. While that's not exactly possible today, every little helps. Whether it's cutting down your email length or timing yourself when you're writing, once you establish some rules you'll notice your first improvements.
If you just can't stop writing long time-consuming emails, maybe it's time to give up email completely. Try using your Customer Relationship Manager (CRM) or Slack to exchange messages with your coworkers instead. If nothing else, it'll help you spend less time on email.