Run Root Apps Without Rooting Android Phone : So, I tried to find some methods to run root apps without actually rooting our android phone. I am gonna share with you a really easy method to do so.
By rooting our phone we can open ourselves a new world of interesting apps and features like my friend used to hack wifi using some apps which require root privileges. He was just a script kiddie, once he hacked her girlfriend's facebook account using zshadow, that's why she left him.
Anyway, rooting our phone also opens a new and dangerous world of vulnerabilities to hackers which when exploited can lead to malicious things like getting hacked, data breach, etc.
But the method I am going to share with you is pretty much safe and you can run almost every root apps in your android phone without rooting your phone.
Run Root Apps without Rooting Android Phone Using VMOS
Just like the virtual box, we have VMOS.
VMOS provides you a virtual android OS environment in your phone which is already rooted and if not you can easily root it without any hassle using one-click root installers.
VMOS is completely free and easy to use. However, you need to have at least 4GB RAM to use it and around 3GB empty space in your internal storage, otherwise, it will start slowing down and freezing your smartphone.
Download VMOS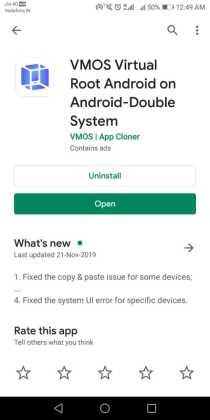 VMOS is free and available on the Play Store to download and make sure you have at least 500mb empty storage before you try to install it.
After installing, at the first start, it will take some time to extract data and load. Give it some time, there's nothing wrong with it.
When it's fully loaded and open, sign in with your Gmail account.
You can install any root app in VMOS and run it.
Conclusion
Rooting has its benefits but it has more drawbacks like opening up new vulnerabilities and breaking warranty sometimes when you unlock the bootloader in the process of rooting your phone.
But using this method you can run root apps without rooting your android phone.
enjoy.