Let me ask you one simple question before moving to the topic: How to reset local admin password, What is password?
The full form of password is Personal Access Security without Regular Decloser. Password is an arbitrary string of characters including letters, digits and special characters or symbols that allows access to a device or service; it basically authorize one who is accessing the device, website or application and authenticates that the person is authorized to use the same. It is a memorized secret also called a passcode and being used in combination with user name. (Source: productaspect)
A password has only alphabets or numeric known as simple password and easy to crack, example: windows
A password more than 6 characters long including at least two uppercase letters, lowercase letters, numbers and at least one special character considered a good password and hard to crack, example: W!ndowS007
A password contain more than 12 characters including Capital letters, Lower-Case letter, numbers and symbols considered a strong and complex password which would be harder to crack, example: I L!ve 1n [email protected]!
Use of strong password is essential in order to protect your device, email account and website. What, if someone forgot windows 10 password? Questions like how to change windows 10 password? is there any windows 10 password recovery tool available ? is there any Windows password reset USB/disk available? etc. The answer is Yes for all questions. The Service providers and manufacturers provide a way of resetting the password/device in case of forgotten. Similarly, Microsoft also provides password reset option if one forgot windows 10 password. There are multiple third party windows 10 password recovery tools are available but I would personally not recommend any 3rd party tool for password reset.
If local account is attached with Microsoft account then try to reset it online from Microsoft Website by using the link. Enter email ID and click on next then click on forgot password, complete verification process to proceed further and change the password. If local account is not attached with Microsoft account, we can reset Windows 10 password of local account.
Using Windows 10 bootable disk.
Using Windows 10 password reset USB/disk.
Using Windows 10 bootable disk: In this method, we would need a bootable disk with Windows 10 installation files loaded. We will replace the utilman.exe (Utility Manager or ease of access center) with cmd.exe (Command Prompt) to execute the password reset commands which will help to reset Windows 10 password using command prompt.
Below steps to be followed using Windows 10 bootable disk.
Insert bootable disk and reboot the system.
Press boot key to open Boot Menu. (Boot menu varies from manufacturer to manufacturer. Common keys for accessing the Boot Menu keys are Esc, F2, F10, F9 or F12, depending on the manufacturer of the computer or motherboard).
Once Boot Menu opens select Removable drive if using USB drive or select CD-DVD drive if using CD or DVD.
Press any key when it shows "Press any key to boot from USB/CD or DVD" on screen.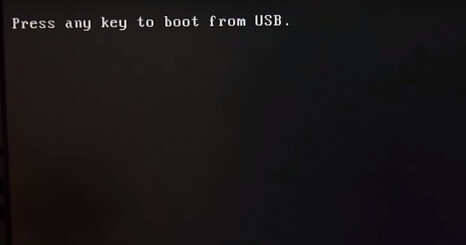 Select Language to install & keyboard or input method and click on Next.
Click on repair your computer and click on Troubleshoot.
Click on Advanced Options then click on Command prompt, it will open command prompt window.
Select Advance Option
Select Command prompt
Locate the drive where windows is installed, type C: to enter into C drive and type Dir to show directories in the drive. If it has windows folder listed, it means good to go ahead if not move into D drive by entering D: and check if it has windows folder.
Once get the Drive where windows is installed, navigate to system32 directory by typing cd windows followed by cd system32. (C:\windows\System32)
Drive locator
Once in system32 directory type command ren utilman.exe utilman_bak.exe to rename the utility manager.
rename command
Type command: copy cmd.exe utilman.exe to replace utility manager with command prompt.
Copy Command
Type exit and hit enter to close command prompt.
Click on Turn off your PC and start it again.
Once System started click on ease of access icon to open command Prompt.
Ease of Access replaced with Cmd
Once command prompt opens, We will execute below 2 commands to reset the password. if one able to login into system with any account can execute this command directly from command prompt and change the password of Admin or other accounts, no need to follow steps mentioned above. Please run command prompt as an Administrator for 2nd method.
control userpasswords2
net user username password
Type control userpasswords2 in command prompt to open User Accounts window.
Password reset command
Select User Name and click on Reset Password.
Reset password
Type new password & confirm new password, click on OK to submit new password.
Command for Password change
Exit command prompt and login with new password.
Click on Ease of access to launch command prompt and execute 2nd command.
Ease of Access replaced with Cmd
Type net user username password in command prompt. (example: net user iTen Windows10) Here iTen is username and Windows10 is the password.
Exit command prompt and login with new password.
Once logged in with changed password go to C:\windows\system32 and Delete utilman.exe with Cmd icon and rename utilman_bak.exe to **utilman.exe (**If get restriction notification please change permission and rename it.) Once done, logout and check if ease of access (Utility manager) works fine.
If you still need assistance, watch below video tutorial of resetting windows password using windows bootable drive.
The second method is using password reset disk:
What is password reset disk? A password reset disk is a disk created by operating system, which allows to access account on a local computer and helps to reset the forgotten password.
Password reset disk method works only if disk has created before one forgot the password, if it is not created and one forgot the password then this option will not work and help to reset the password. If Password Reset Disk is available follow below steps to reset it
Start computer and Insert password reset disk.
Click on Reset Password option on login window (If not visible then enter any random password to get that option).
Login page
System will launch password reset wizard, click on Next to process.
Password reset wizard-start
Locate the USB disk and click on Next.
Password reset wizard-USB selection
Type new password, confirm password and click on Next.
Password Reset Wizard- Enter new password
Click on Finish to complete the password reset process.
Password Reset Wizard-Finish
That's all, all set to login with changed password using password reset disk, enter new password and login.
Happy learning!