Malware, a malicious program infecting your computers and networks, can have a troublesome impact on your devices.
The term malware includes a range of malicious software varying from computer viruses, trojans, ransomware, spyware, to others. It can take you through a bumpy road of downtime, financial losses, and reputation, especially when it affects your work. To avoid it infesting your assets, you should have protective anti-malware tools installed on your computer. Malware removal tools will help you detect and remove malicious programs, keeping your IT assets safe.
5 best antivirus software to defend against malware
Symantec Endpoint Protection

Malwarebytes for Business

ESET PROTECT Advanced

Webroot Business Endpoint Protection

MVISION Endpoint Security
*These antivirus software are suitable for large organizations.
How malware infects your devices
There are various ways through which malware can enter your assets. The most common one is through emails sent in a phishing attempt. Such emails hold attachments disguised as genuine files that contain malicious programs embedded in them.
You should always be cautious about downloading them or opening an untrusted link. When you open a malicious link, it directs you to a compromised website that automatically downloads malware payload to your device.
Discover how different malware work differently to gain unauthorized access in this comprehensive guide to malware.
Attackers can also exploit software vulnerabilities to deliver malware, making it crucial for you to become technologically equipped in combating the potential threat.
Top 5 antivirus software for malware removal
Endpoint antivirus software is a tool capable of preventing and detecting malware in an endpoint device. Most of these tools have firewalls to prevent worms, trojans, adware, or viruses from entering a system.
This antivirus and anti-malware software provides several features like detecting and identifying potential malware, including tools to assess a device's health. It alerts administrators on finding a malware infection.
Most of the tools mentioned in the software list below are suitable for large organizations. If you need a free version.
To qualify for the endpoint antivirus software list, a product must:
Identify malware and have features to remove it
Include antivirus and antispyware features
Provide health status of individual devices
Deliver updates as new virus signatures are detected
** Below are the five leading antivirus software from G2's Winter 2021 Grid® Report. Some reviews may be edited for clarity.*
1. Symantec Endpoint Protection
Symantec Endpoint Protection (SEP) protects your endpoint devices from malware attacks, including targeted attacks, advanced persistent threats (APT), and zero-day threats with a layers approach to security.
It unifies single and virtual protection with a single management console, delivering a scaled orchestrated response and high performance.
What users like:
"Symantec has done a great job with their centralized management portal. The agent/client itself is easy to deploy once you understand Symantec's interface. Policy management could use some work, but given the class of software, it covers the basics and then some. Email notifications are a must for me, and this software does it well. It doesn't matter if the event was resolved automatically or not; admins always get notifications."
What users dislike:
"There's no side of the product that I don't like. We have provided high-level protection against viruses and malware on our workstation and client computers with SEP. Therefore, we are satisfied with the product."
2.Malwarebytes for Business
Malwarebytes protect organizations and their employees from malicious programs that can threaten cybersecurity. It comes with advanced endpoint protection capabilities that stop malware and block suspicious activities with a small footprint agent.
This security software helps organizations quickly investigate, detect, remediate, and recover from advanced threats to ensure that compromised devices are back online and ready for use.
What users like:
"Logging in to the dashboard to get an overview of all of my clients is very helpful. It shows me which endpoints need a reboot, a scan, or a software upgrade. I can push all of those things outright from the dashboard. I also have the ability in a single click to drill down deeper to the endpoint level from the dashboard."
What users dislike:
"Cost is higher than other endpoint security products, and it may take a while for a novice administrator to understand how to configure the cloud console properly."
3. ESET PROTECT Advanced
ESET PROTECT Advanced provides multiple defense layers to detect malware before, during, and after execution. It balances performance, detection, and false positives with a dynamic equilibrium of machine learning, big data, advanced behavioral analytics, and human expertise.
What users like:
"Eset endpoint security has a low impact on pcs resources and does not slow down the computer. Eset endpoint security helped us to manage all endpoints from one location using its centralized console. Eset provides frequent updates, but it does not disturb any of our work, and this also has a powerful scanning system that secures the network from many kinds of viruses, malware, ransomware, rootkits, worms, and more. It supports many operating systems, and implementation is quite simple."
What users dislike:
"Some of the program update features are kind of cumbersome. We've found that we need to run the software update multiple times to make sure everything is updated on a regular basis. The thing that I would change here about this function is setting an update to be released. As soon as a workstation comes online, it reaches out to the management console to see if it holds the released software. I think this would be a huge update to the present setup."
4. Webroot Business Endpoint Protection
Webroot Business Endpoint Protection provides real-time protection and threat intelligence to protect businesses from diverse threats across the web, email, ads, applications, files, and more. In an event where a system gets compromised, the software leverages its unique journaling and rollback remediation, helping local drives uninfect, minimizing or eliminating the need to reimage hard drives or systems.
What users like:
"Managing the endpoints is easy with the help of the centralized management console. Unlike other similar protection, it does not require installing server applications on the device. The portal is web-based and isn't machine-independent. It can be accessed from wherever you are. The best part, it does not leave any noticeable footprint on the device.
It doesn't slow down the system. The executable installation file is very small in size. It supports a wide variety of clients, including Windows servers and MacOS. The installation is super easy, and it just requires one click to fully install. Installation KEY code is integrated on the downloaded client installation file."
What users dislike:
"The policy hierarchy is a bit convoluted. There are global site policies and also individual policies. Sometimes new features can only be applied to global policies, which are difficult if you only implemented local group policies."
5. MVISION Endpoint Security
McAfee[MVISION Endpoint Security leverages machine learning to analyze the latest threat to a device, and facilitates local and cloud-based malware detection. The software helps users to return the device to its healthy state instead of reimaging or repairing it. MVISION prevents systems and networks from potential breaches caused by malicious attempts to harvest user credentials.
What users like:
"McAfee Endpoint Security provides full encryption to avoid the inappropriate use of data from stolen devices such as computers, laptops, or mobiles. This software detects and protects from destructing viruses in an easy and user-friendly manner. It scans viruses rapidly and is consistent in its action with well-ordered management. McAfee has an efficient password management tool that delivers extra protection as it blocks the interrupting links, sites, and ads."
What users dislike:
"Sometimes it detects wrong or false malware and viruses. Thus, it should provide some useful features so that this problem can be resolved. It may slow down sometimes as it's a large program and due to its heavy processes. If your systems and networks are under the scan process, it'll slow down other processes of your systems. Thus, you may not be able to work while scanning."
How to remove malware
Malware can penetrate into operating systems even after robust security measures.
Malware on a Mac may sound bizarre, but in reality, its existence can't be doubted. Malwarebytes State of Malware Report 2021 tells that Malware accounted for 1.5% of all Mac detections in 2020, and the rest of the detections comprised of potentially unwanted programs (PUPs) and adware. Even though Apple adopts strict security measures to protect its devices, there are certain ways malware can attack your beloved MacOS.
Similarly, Microsoft Windows Defender works at its best at malware protection; there can still be gaps in security measures that malware can take advantage of.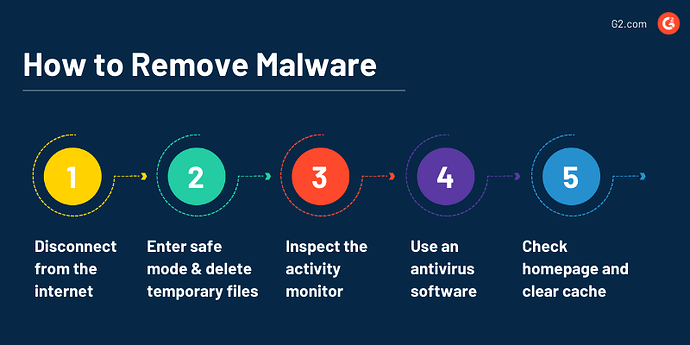 Many malware signs can tell if your macOS, Android, iOS, or Windows device is prone to malicious intent. When you speculate that the malware signals converge toward malware, here are five ways to help you remove it.
1. Disconnect from the internet
Debarring your device from accessing the internet will help you restrict the damage that the malware was continuously causing. Isolate your device and prevent data exchanges between your device and the malware server.
You must go offline, but don't give in to your urge to shut down your device. There are examples in cyberspace, especially in cases of ransomware, where malicious software is programmed to delete your encrypted files if you choose to turn the power off.
Wait until you confirm the presence of malware by using a malware scanner equipped with antivirus software. If you get a confirmation, call in an informed security professional who can help you deal with it.
Tip: Lean more about top cybersecurity certifications courses to gain expertise and become a top-notch security professional.
2. Start with safe mode and delete temporary files
Safe mode uses or allows only those applications that are critical to your device's basic functionalities. If an attacker has programmed malware to load automatically, entering safe mode will prevent it.
Once you're confident that you've avoided a situation where your data can be deleted permanently by malware, you can restart your device. You can enter safe mode in Mac by holding the Shift key when you restart your device and the Apple logo appears. Continue holding the shift key until you move to your login page and then release the key.
If you're a Windows 10 user, you can click the Windows button and go to power. Hold down the shift key and restart. Choose troubleshoot and go to advanced options where you'll find start-up settings. Under start-up settings, click restart, and you can find various options to boot in the safe mode.
Make sure you don't log in to your account or click on "show password" when the malware is still present. It's advisable to keep yourself out of sensitive accounts to prevent exposure of information.
When you have entered the safe mode, remove temporary files on your system. Deleting temporary files will help expedite antivirus scanning, and might even remove the malware if it was programmed to start while booting.
To remove the temporary files in Microsoft Windows you can use the disk cleanup tool. You can find it in Windows Administrative Tools listed in the start menu. Go to the disk clean up tool, scroll through files to delete list, and choose temporary files.
MacOS users can go to the main desktop, and press shift+command+G. In the finder window, enter the command ~/Library/Caches and tap go. You'll find a new window with Mac's temporary files. Select all files using command+A and then press command+Delete. You'll have to enter your Mac's password here to complete deletion of temporary files.
3. Inspect the activity monitor of your device
Malware steals a substantial amount of processing power from your device. If you check your activity monitor, you can see the applications that have questionable CPU usage. When you're not using an application and it's consuming a lot of processing power, it simply means that something isn't right. There can be malicious code behind it working to invade your information.
If you detect anything suspicious on your device, quit malicious applications at once to prevent it from any damage.
4. Use antivirus software
Once you've gathered evidence of malware on your device, it's time to ascertain it. You can use antivirus software equipped with malware removal features to detect and remove different malware types attacking your device.
Antivirus programs can catch standard malicious entities across your device and protect you from emanating threats. If the type of malware you're dealing with has just embarked upon cyberspace, you may have to get an on-demand antivirus that has an updated threat database.
5. Check your browser's homepage and clear cache
Malware can modify your browser's homepage to reinfect your device. Ensure your homepage's authenticity so that if the threat persists, you can get rid of it.
You can check the homepage's authenticity and clear the cache in Google Chrome and Safari through these steps:
Find the option to verify your homepage in the search engine tab, listed under Google Chrome settings. For Safari, you can make relevant changes in the preference section under "general settings".

Find the clear browsing history section in the privacy and security settings of Google Chrome, and place a tick mark on cached images and files. For Safari, go to preferences, dive into privacy, manage website data, and choose the "remove all" option.
Malware removal follows the same basic idea for Windows and Mac, but differs in the removal process. For example, you need a different set of functions to enter Mac's safe mode than Windows.
Protect your devices and network
Now that you've walked through the process of removing malware, start protecting your assets from malware threats with leading antivirus software on the market. (Source: g2)
Happy learning!