Introduction |
Hi guys. today I will be showing you guys How to Get Access to ALL WintellectNow Premium Courses for FREE. For a duration of 3 months (90 days), you get full access to almost 600 premium courses from Wintellectnow.
This offer is made possible courtesy of WintellectNOW and Microsoft Imagine. You can also download the courses for offline access using the Wintellectnow app on the Windows Store. Premium subscriptions for individuals cost about 180 USD yearly or 20 USD per month.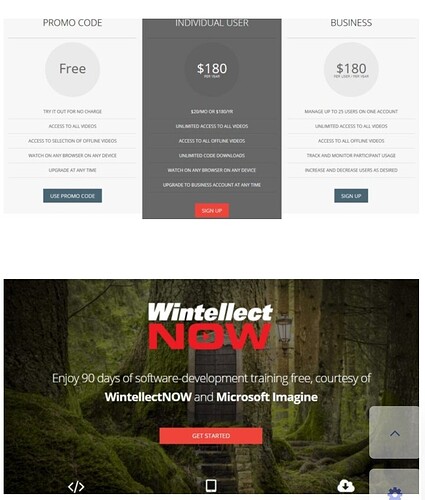 WintellectNOW is an on-demand training solution that delivers real-world, ready-to-use knowledge, tools, and techniques to help individuals and businesses expertly develop software, programs, apps, and more.
How to Get Access to ALL WintellectNow Premium Courses For FREE
Visit this link to get an account of Moe.bartonclough.co.uk. You also get Microsoft 1TB and OutLook email accounts for free.
Using the newly created account from above, log in to this site and select to activate your Wintellectnow account. You may need to register for a new Wintellectnow account when it redirects you to the activation page.
You can equally get a Pluralsight account. Use the activation link provided. There are several other offers available once you activate your account. Explore all the learning and software services you wish.
Wintellect is world-leader in software development and developer training. The company was founded by a team of renowned technology experts and is recognized as a leader in full lifecycle application development; architecture, analysis and design services; UI/UX design; project management; debugging and performance tuning; database design and development, mission critical architecture …
Conclusion
That's it guys. Make good use of this opportunity and learn as much as you can. This is a premium post by EduTechTainMent. Subscribe to this blog and get notified as soon as we publish new informative posts; join us on telegram and like and subscribe to our YouTube channel.
Cheers!!!
… And Over Every Possessor of Knowledge, There is (Some) One (Else) More Knowledgeable.