An easy way to generate traffic and make money from the business/hustler/luxury and Andrew Tate Niche.
1. Create accounts on almost all social media platforms.
I would suggest you create them on Instagram, TikTok and YouTube (Shorts). Get a nice catchy logo which is orientated into the business/luxury niche (for example an image of a Ferrari/Bugatti or an image of Andrew/Tristan Tate). Create a catchy bio with some emojis (but leave enough space for a link (on Instagram)).
(Remember that if you are not in the US you are less likely to be successful with this method. Therefore, I would suggest that you get a US-Simcard or a US 4/5 G proxy. With these things you can still create social media accounts in the USA, since it is usually easier to get traffic on platforms like TikTok and Youtube with a social media account in the USA. Here is a good video on how to create a US TikTok account: How to create US TikTok Account)
2. Buy some high quality followers on a smm panel site (there are quite a few, with very cheap prices).
Be careful not to buy too many! We do not want Instagram and TikTok, as well as YouTube to draw attention to us, so that we might get banned. We just want to add the option to add a link in bio to TikTok.
3. Now we just have to get some content from a creator.
There are various sites where you can download content. I would recommend savett for TikTok, Igram for Instagram and ytshorts savetube for Youtube. Then we have to cross-post this content on the platforms, i.e. post the content from Instagram on TitTok, for example. We should definitely do this, otherwise we will probably get (shadow)banned on TikTok, Youtube or Instagram. If you have some experience, you can also create the videos yourself. I would recommend ShotCut for this. Just set the images resulotion to 1080x1920 and drag in content and add some subtitles and its logo.
But what kind of content should we actually post?
We want to post content in the Business/Luxury/Finance/Hustler niche if possible. The people who watch this content are very impressionable if you sell it in a way that promises you a quick buck. But we'll get to the monetization in a moment. Of course, with the current arrests of Andrew and Tristand Tate, it's only natural that videos about them (especially when they're extremely controversial) get a lot of views, so I'd recommend posting content from them as well.
What should the content look like?
Of course, the content should be engaging and controversial (like Andrew Tate's clips) to get a lot of views. A call to action in the video would also be beneficial, for example, "These Ebook will make you a millionaire in 2023! Check my Bio!".
4. Now we have a few thousand views. But how do we make money from it?
There are different ways. Either we sell our own products (dropshipping, ebook), we sell our traffic on Fiverr, use a link shortener like short me or adlify, as well as linkvertise, or we simply promote other people's products. As an example, I found an ebook/guide on Digistore24, an affiliate marketplace, that probably works well. It is important to promote a product with a low price, as this reduces the inhibition threshold for many people.
So no product like this should be selected:

Rather, an ebook or guide like this should be promoted: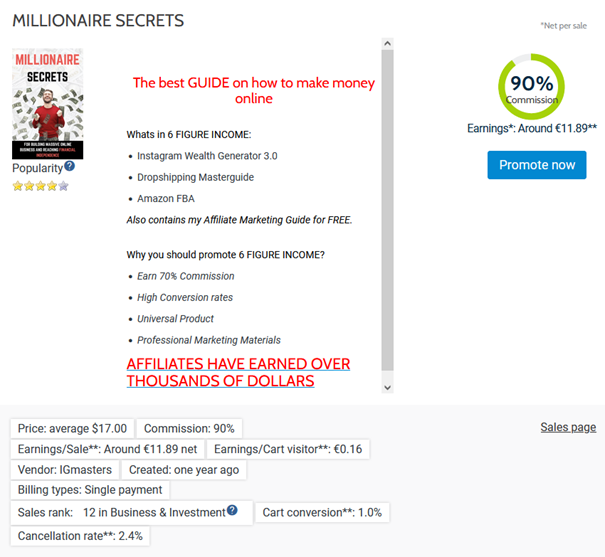 Here are some accounts where you can get some quality content:
On Instagram:
billionaire_definitely
tate_motivation
cobrathq
knight_of_wudan
billionaire_vibes
unstoppabledrive
powermindofficial
mtrxisreal
ft.thealphasquads
On YouTube:
Matrix Avengers
Masculineprophet
Mafiabillionaires
masculineethicsreal
financialinsiders
Maculine-Fire
talismantate
wolfwarrior_motivational
millionaire_morals
On TikTok:
.the.millionaire.mindset
whizmindset
investtostock
mightyhustler
rachformillions
the.frozy
alltimenation
viralclipsagency
lifestylkrzn
thetateattitude
Here are some of the results you can expect (Just a random dude who got millions of views with one viral Andrew Tate TikTok):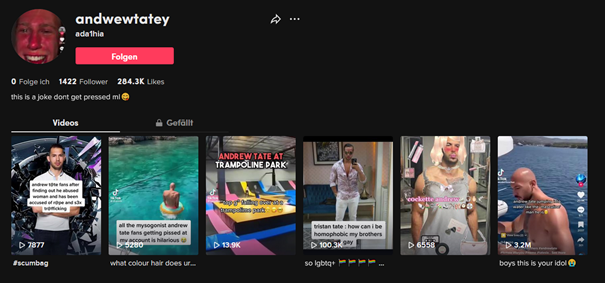 Here are some hashags you can use:
#andrewtate #tristantate #motivationalquotes #motivation #success #successmotivation #successmindset #rich #wealth #tateism #businessman #entrepreneur #entrepreneurlife #bugatti #goals #tate #arrested #andrewtate #cobra #inspiration #freedom #prediction #jail #tate #andrewtate #cobra #love #relationships #beauty #goodvibes #positivity #inspiration #rolemodel #tateism #mclaren #conspiracy #winning #motivationnation #hustle247 #hustlegod #successclub #successsecrets #inspiringquote #businessgoal #workhardeveryday #motivateme #motivationeveryday #motivationmindset #millionaire #billionaire
Here are some more tips:
You are trying to make money - you are not trying to grow a single account. So if your account gets less and less views just open a new one. Also do this if your account gets banned.
Only use controversial and viral videos
Use a good color theme for your accounts
If you can't add links to you bio put them into a comment and pin it. Remember to delete the "https://www" because that will get you flagged. Also do this for YouTube shorts.
Source: Nulled
Happy learning!