Adguard is a third-party web service that allows you to download Microsoft Windows and Microsoft Office ISO images from Microsoft services directly.
Microsoft makes it quite difficult for the average user to download ISO images of Windows or Office.
While you can grab some ISOs from Microsoft directly, it gets quite complicated if you need ISO images of older Microsoft products.
The program is available for Windows only however, so that you cannot really use it if you happen to use a different operating system.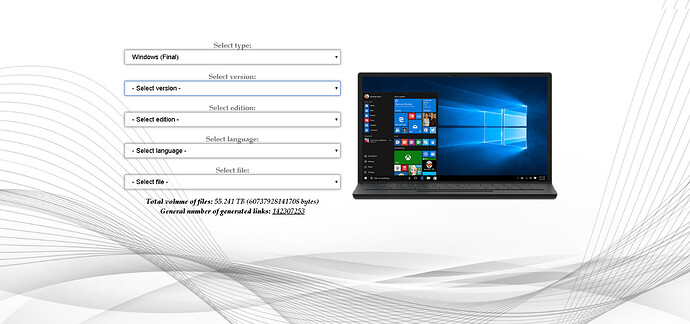 The Adguard website offers an alternative. If's biggest advantage over Windows ISO Downloader is that it is a web service. You need a modern web browser to access it, but don't need to install programs or plugins to make use of it.
All you have to do is pick an interface language at the top, and select the product that you want to download using the menus provided.
The following five menus determine the product:
Type : Windows Final, Microsoft Office, TechNet Evaluation Center, ESD Electronic Software Download, Language Pack for production Microsoft, Virtual Machines (by Microsoft) .
Version: depends on selection
Includes Windows 8.1 and 10
Office 2013, 2016, 2016 for Mac,
Evaluation software (Windows, Windows Server, Office Servers, System Center, SQL Server, Advanced Threat Analytics, Identity and Access Management, Microsoft Integration Services, Web Lab Kit
Electronic Software Downloads: Windows 10, Windows 8.1
Language Packs for Windows and Windows Insider Builds.
Virtual Machines from Windows XP to Windows 10 (including Insider Builds)
Edition : depends on type and version. Windows editions include Home, Pro, Enterprise, Office include Home,Personal, Professional, and more.
Language : lists all supported languages based on the type, version and edition.
File : usually 32-bit or 64-bit, if provided.
Once you have made the last selection, the file download link is provided right away. The listing includes the file size of the download, and the SHA1 hash.
Downloads, at least those that I have tested, originate from Microsoft servers. It is recommended that you check the download link before you start it. The Adguard site seems to be powered by Microsoft TechBench, the same source that the Windows ISO Downloader is also getting its files from.
Closing Words
Aguard offers another method of downloading Windows and Office ISO images to the local system. Since it relies on TechBench, it is equally dependent on Microsoft not shutting down access to older ISO images.

The service works well right now, and downloads are quite fast considering that they are served directly from Microsoft servers and not third-party servers.