What to Know
Option

#1:

Change your Display name. Tap your profile image > Settings > Name > enter a new name.
Option

#2:

Create a whole new Snapchat account with a new name.
Before you create a new account, write down or screenshot your friends' usernames to add them to your new account.
Snapchat doesn't allow users to change their usernames or transfer account data between usernames. This article teaches you how to work around those obstacles by changing your Snapchat display name, or creating a new account and saving your friends' usernames to add them to your new account.
Change Your Snapchat Display Name
First, there is a clever way to replace your username with a custom Display Name. Your username remains the same, but it's hardly visible to your friends.
Here's how to do it.
Open Snapchat and select your profile/Bitmoji icon in the upper-left corner of the screen.
Select the gear icon in the upper-right corner to go to your Settings.
Select Name.
Enter a new display name in the Name box.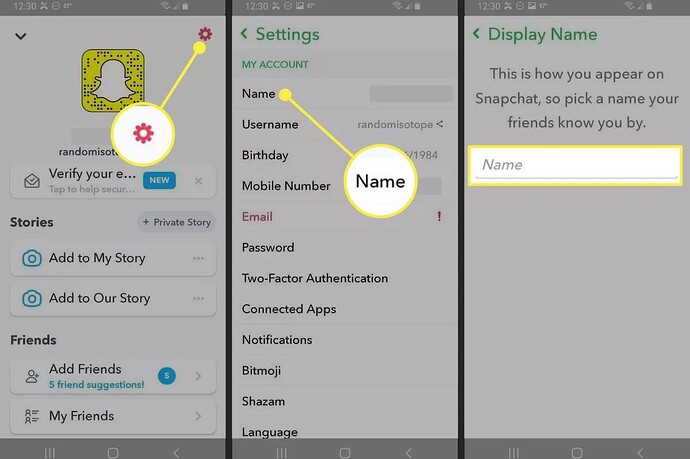 Tap Save.
The name that you save in the Name field appears in your friends' chats and stories instead of your username.
The only time a friend might see your username is if they view your profile during a chat (which shows your snapcode, name, username, snap score, and chat emojis)—or if they select your Display Name when they search for friends.
Make a New Snapchat Account and Username
Another way to change your Snapchat username is to create an entirely new account. If you choose this option, you will manually add your friends to your new account. Here's how to save your friends' Snapchat names and then create a new account.
If you create a new Snapchat account, you lose data from your old account, including your current snapcode, snap score, snap streaks, best friends, conversations, and trophies you earned.
Select Chat and choose the New Chat icon in the upper-right corner.
Scroll to All to view your friends in alphabetical order. Write down each name or take a screenshot of the list. Select the X in the upper-right corner to cancel the New Chat.
Search for the first friend in your list by typing their name in the search field at the top of the screen.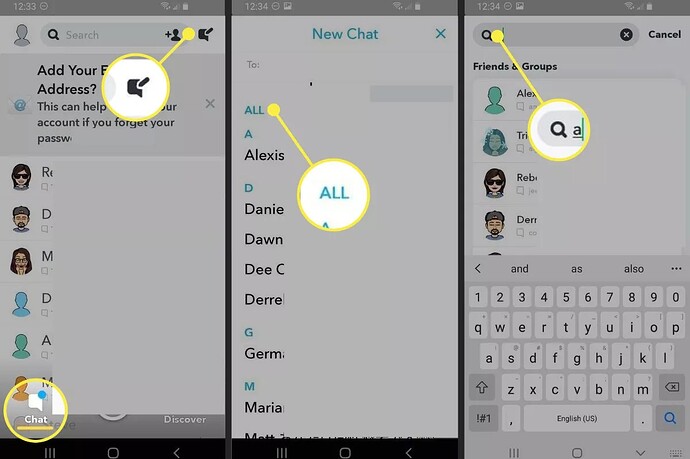 Write down the username that appears under their Display Name. Repeat

#4

to find all of your friends' usernames.
Select the X in the search bar to exit search. Select your profile/Bitmoji icon and then choose the gear icon in the upper-right corner to access Settings.
Select Log Out at the bottom of the Settings list, and confirm that you want to log out of your account.
Select Sign Up to create a new account with your new username.
After you complete the account setup process for your new account, select the magnifying glass icon to search for your friends' usernames. Select Add to add them.
Note: Alternatively, if your friends are in your device's contact list, sync your contacts to your account to add them in bulk and speed up the process.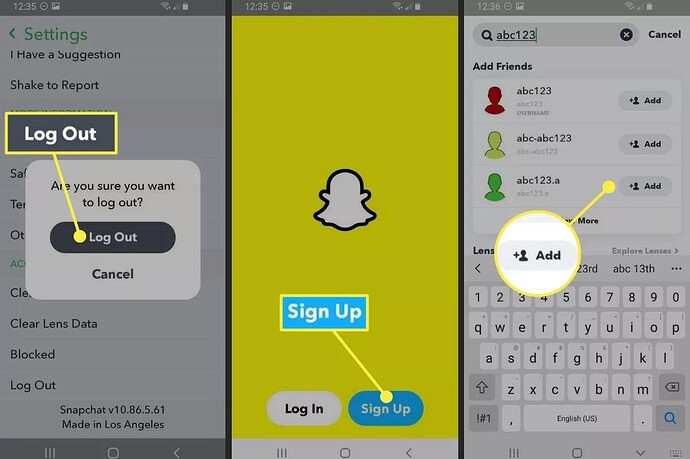 Source: lifewire
Happy learning!