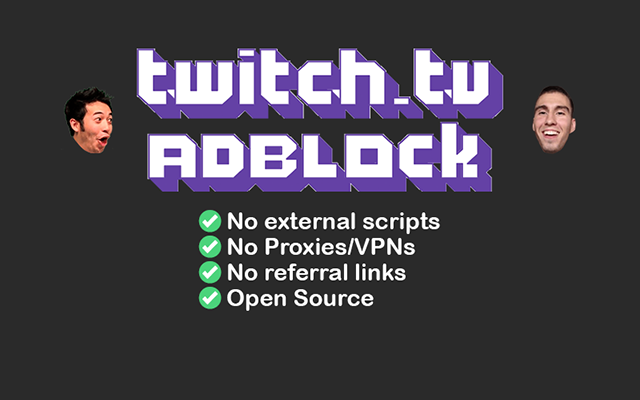 Twitch Adblock blocks ads on Twitch by switching to an ad-free version of the stream at 480p during the ad-time and automatically switches back to the original video quality after the ad-time is over. This is 100% done locally, no proxies/VPNs or 3rd party scripts/websites are being used. This extension does not collect/share any of your personal information and the code is public.
It is recommended to use this extension along with UBlock Origin.
Sourcecode: https://github.com/cleanlock/VideoAdBlockForTwitch
The original author of this extension is "saucettv". This extension will always stay donation- and referral-link free.
Available Browsers
Manual Installation Steps for Chrome
NOTE: This is NOT RECOMMENDED, you WILL NOT get auto-updates
Extract the ZIP Archive
Open up Chrome and in your Web Browser URL, enter: chrome://extensions
Enable the Developer Mode toggle, found in the top right of this view (typically) of the extensions page in your browser.
Click Load unpacked Extension
Navigate into the extracted folder from the ZIP Archive and select the folder chrome.
Happy learning!