"Best Way To Make Money From Youtube in 2020!"- This Guide is prepared by one of my friend from his real life experience. After completion of this post, you will get idea about how to use youtube to earn more than $100 a month. Proof of payment is also included in this post. So,This might be the best way to make money online in 2020.
Table of Contents
1 Two reasons:
2 Examples:
3 1. Choosing A Niche :
4 2. Shooting or Making Videos/Contents:
5 3. Optimizing Your Videos
6 4. 'Promoting' Your Videos
Best Way To Make Money From Youtube in 2020!
So lately my friend has been getting into 'reviewing' stuff on YouTube (and on his niche sites) to make money through amazon reviews and I thought I'd make a tutorial to show you how he's doing it.
He has been setting up channels where he personally review all sorts of gear in all sorts of niches (both physical and digital products) and he has even been branching out to work with other Youtubers to help them to start up review channels too… and basically what I am finding is that this simple approach can be extremely profitable if you're willing to put the time and effort into doing it properly.
And I am not talking about those terrible review sites with the stock graphics and poorly expressed articles that have probably been copy pasted straight off the Amazon review site.
I'm talking about actually buying the products, trying them and doing a real video review on Youtube along with a blog post with actual footage of the product in action.
But why am I taking all of this extra effort to buy the products and to make video reviews as opposed to just using stock images and articles?
Two reasons:
They convert insanely well. Nothing beats a real review where you can actually see that the person really has bought and tried the product and as a result these types of videos convert extremely well… even for higher end products costing $500+ allowing you to get $50 commissions, $100 commissions and even higher.
The competition is next to impossible. So, few people are actually willing to step away from their computer for a moment to properly review a product and then go on camera that it means that those who are willing to put in the effort are able to rank and bank with ease.
Examples:
Before I get into the 'how to' portion of this post though here's a quick example of how profitable these videos can be.
The following is an income shot my friend just grabbed that comes from just ONE review video of a physical product that has nothing to do with the 'internet marketing' niche.
As you can see the commissions are nice and healthy, they're regular and it just comes in on autopilot once the video is up and ranking.
And when you consider that he has got dozens of videos like this in all sorts of niches it starts to add up pretty quickly.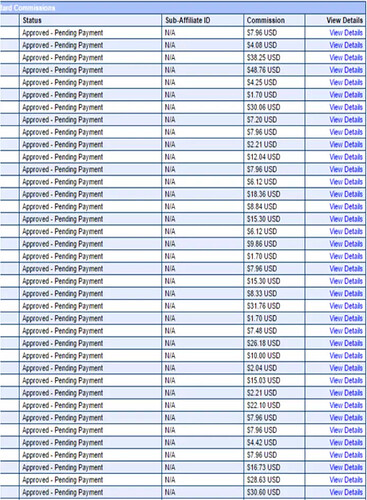 Now I can't give you the niche or show you the video for most of these because like I said – these keywords are so low in competition that it'd be stupid for me to 'out' them.
But here's an example that you can see.
My friend reviewed tool 'FPTraffic' on channel a while back which is a tool that he has been using to grow and automate his Facebook pages. He basically just put together a video where he talked about how he was using FPTraffic and what he liked about it and towards the end he give out my affiliate link.
And basically this review video now ranks in the top spots of YouTube for things like 'FPTraffic', 'FPTraffic Review' and even things like 'get more Facebook Fans', 'How To Get More Facebook Fans' and so on:
Continue reading here: