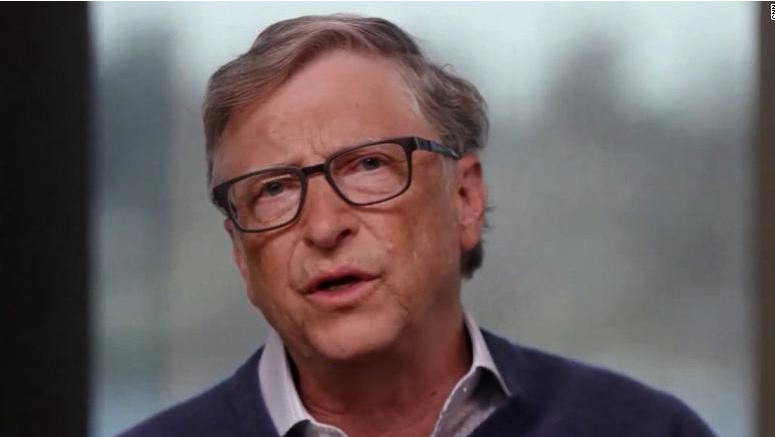 The seventh-wealthiest man in the world, Warren Buffett, turns 90 today. Famously the tycoon/philanthropist pledged to give away 90% of his wealth, founding with Bill and Melinda Gates "The Giving Pledge," a campaign urging the world's wealthiest individuals to dedicate the majority of their wealth to giving back. Over $1.2 trillion has now been pledged, with participants including Elon Musk, Ted Turner, Mark Zuckerberg and his wife Priscilla Chan, Oracle co-founder Larry Ellison, and Microsoft's other co-founder, Paul Allen.
CNN reports that Gates "offered a sweet and funny video tribute to his billionaire pal," who besides drinking six cans of Coke each day is also "a notorious dessert-a-holic." Doing his best Martha Stewart impression, and with Randy Newman's "You Got a Friend" playing in the background, Gates made a delicious-looking Oreo cake, complete with Buffett's face on the top, drawn in chocolate icing. In the end of the 60-second video, Gates cuts a slice, puts it on a plate with a fork, and leaves the message "Happy 90th birthday Warren" in Oreo dust…
The cake was a special tribute to Gates' friendship with Buffett. In 2016, Gates recounted a story on his blog about how he caught Buffett eating his favorite dessert for breakfast: Oreos. "One thing that was surprising to learn about Warren is that he has basically stuck to eating what he liked when he was six years old," Gates wrote. "I remember one of the first times he stayed at our house and he opened up a package of Oreos to eat for breakfast. Our kids immediately demanded they have some too. He may set a poor example for young people, but it's a diet that somehow works for him."
The editor of Forbes also joined the celebration: Next year will mark a decade for the Forbes 400 Summit on Philanthropy, our annual meeting of 150 or so of the world's biggest givers and greatest problem-solvers. The impact is enormous, and it wouldn't happen without today's birthday boy, 90-year-old Warren Buffett. In 2011, I pitched the most generous philanthropist ever the idea of turning our definitive wealth ranking from a static list into a club for good. Warren being Warren, he embraced it immediately, strategically and wholeheartedly, and the Summit was born…
The highlight each year is a talk that Warren and I have, usually during lunch… For Warren's big birthday, we dug through nine years of Forbes 400 Summit on Philanthropy video archives to find some of his most inspiring and obscure gems, [each] edited down to 90 seconds or so. Happy Birthday, Warren!