Access to Illustrations Pack for $25/1800Rs (one year cost) at GetIllustrations(dot)com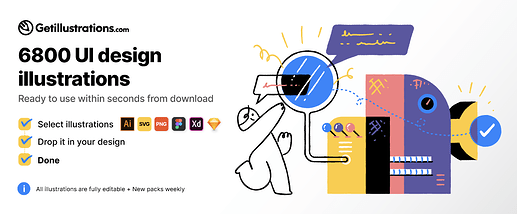 What you will get?
Private access to all the illustrations packs at getillustrations(dot)com. All the formats are accessible to you.
Please read ALL this information VERY carefully.
1: You will receive access via Mega/Drive
2: Originally priced at $195, you will pay only $25/1800Rs
3: It is forbidden to share the link outside of the forum or publicly on this site. If you wish to share any product, please download and share it.
4: If I find any evidence of suspicion, I reserve the right to revoke your access.
5: I will update the file on the drive as soon as the new illustration pack update appears on getillustrations(dot)com
After payment, access will be provided immediately
Note: The access will be given for 1 year
Payment methods:
Paypal, UPI
(The PayPal fee is $2.85 in addition)
Refund Policy:
There will be no refunds once the access has been sent to you.
For more information, please comment below or send me a private message. Only interested persons may comment.
For faster communication ping me on telegram
Envato_y
First five buyers will receive free graphic design products worth $99 as a bonus.