Automatically generate emails that boost open rates, engagements, and sales Star-struck

Few things offer higher ROI than email marketing or absolutely slamming that impulse funnel cake purchase all by yourself. ("Funny how the holiday spirit always feels like indigestion.")
But you're probably missing out on the full potential of email if you don't know how to compose the perfect message or don't have any copywriters on your team.
Need a way to grow profits from email marketing without any copywriting experience or a team of email experts?
Meet EmailWritr.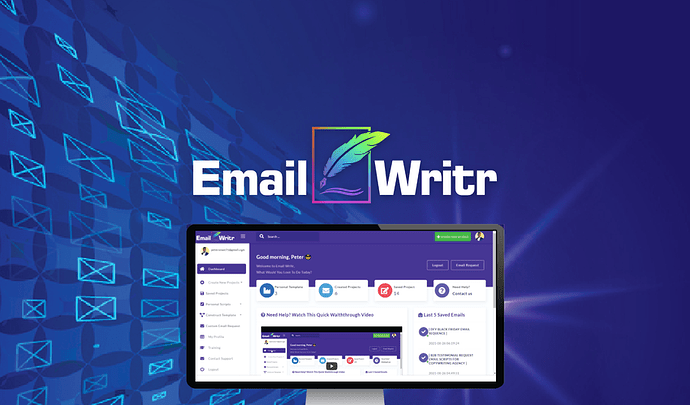 Generate unlimited single emails and follow-up sequences across every industry after answering just a few questions
Get access to 1,300+ fill-in-the-blank email templates that you can customize and use in your marketing campaigns
Best for: Digital marketers, freelancers, business owners, and agencies that want better results from their email marketing
With EmailWritr, you can create single emails and email sequences without any copywriting experience.
All you have to do to get started is select your niche or industry to see all the different types of emails that are typical for that sector.
You can also access all the different emails you need to promote your own products or other people's products as an affiliate, regardless of your industry or niche.
Features Included in All Plans

Create unlimited custom email sequences


1523+ premade swipe email templates


Create emails across 27+ industries and niches


Create all email types


Simple dashboard


Construct your own reusable templates


Unlimited saved projects


Translator


Edit saved projects


Addition of new industries and niches as well as their email types


Export email sequences


No EmailWritr branding in emails
How to proceed:
After payment, I need your email for Emailwritr invite. i will add you to my account…
It's a one-time payment, You will have lifelong access until the company close ( As claimed by the company )
Delivery Time:
Max 1 Hour (if I am online)
Payment Methods:
Paypal ( $4.59 fee extra )
UPI ( Available )
If you don't have both, you can pay via LTC