Proper GSuite Business Account. Fast Delivery.

I have it for a week now, works great, can recommend!
Extra plus for domain, man I'm on

!!!
Fast service…got my account within 10 mins after payment! Thank you @Blaken !!
NOPE, It is Available for 8$ as of now
what do i need to do to get started?
Please share the details with me

I just received this notification and i was surprised. I never used this account for any spamming, neither have i sent any email. Never overused any google services. Kinda disappointed tho.
Anyways, i have sent details @Blaken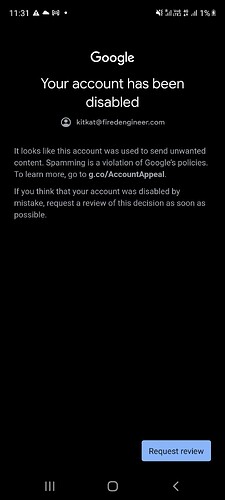 @SaM please lock this thread…
ONE of my Gsuite has been banned for someone used it for Spam.
For anyone facing this issue Just PM with the desired username with the payment proof…or better reply the Conversation that we used to purchase…
Also after a Ban as an Admin I can now have a glimpse of the list of files not the actual files, number of emails sent and statistics…
So anyone who stored any copyrighted files or misused and created several Shared drive or worse Used it for Email spamming will be reported to Admin…
I̶ ̶a̶m̶ ̶c̶u̶r̶r̶e̶n̶t̶l̶y̶ ̶o̶u̶t̶ ̶o̶f̶ ̶s̶t̶a̶t̶i̶o̶n̶ ̶f̶o̶r̶ ̶t̶h̶e̶ ̶n̶e̶x̶t̶ ̶4̶8̶ ̶h̶o̶u̶r̶s̶ ̶,̶ ̶S̶o̶ ̶n̶o̶ ̶n̶e̶e̶d̶ ̶t̶o̶ ̶w̶o̶r̶r̶y̶ ̶i̶f̶ ̶I̶ ̶d̶o̶n̶t̶ ̶r̶e̶p̶l̶y̶ ̶n̶o̶w̶.̶.̶.̶
I am Online and Ready to answer your Query!
Please ask For a Warranty Replacement by 31/10/2021, As I will be Supplying the new Accounts from Another Seller and I will be buying them from him in bulk…
The Status Will be Updating Below: ! So Stay Tuned
Update 15/10/21 - Everyone Got a Replacement Account who Contacted me and did not break Googles TOS