As a Google Cloud Training Partner we provide the necessary skills to develop and operate infrastructures and applications in the Google Cloud.
With a seamless integration into the Qwiklabs platform, Fast Lane brings you hundreds of Google Cloud Hands-on Labs into our digital platform that include temporary credentials to actual cloud resources, so you can learn the cloud using the real thing.
For a limited promotional time period until December 31, 2021,
you can access the titles below free of charge with the following voucher: GCP-LABS
How It Works:
Take any course by visiting the above link and apply coupon at checkout to get it for free
Use this coupon code, GCP-LABS
If it says Check your coupon code then try with a different email id
All these courses are made with association with Google.
Signup to the site, then add course from the given link to the cart.
Apply coupon and buy the course at $0
No card details are required.
A user can redeem the given coupon 3 times only on one account.
Proof Of Coupon Working: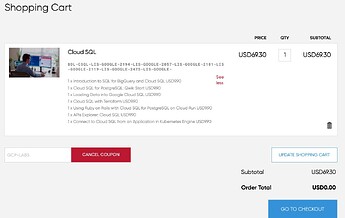 Extra Tip:
If you want more courses, To use it again, You must create another account with a different email id and use the coupon on the other 3 courses, that's it.
ENJOY & HAPPY LEARNING!

Feedback and appreciate this fooking expensive share, Don't be cheap at least!
DO NOT LEECH YOU SHITY LEECHERS!