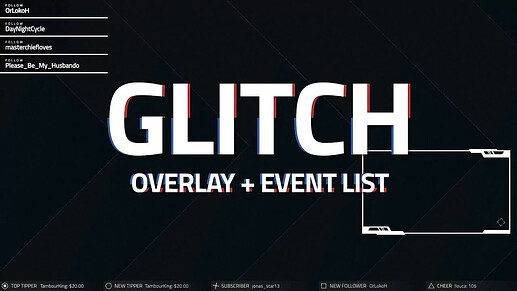 Fans of clean designs, sci-fi nerds, and live streamers unite! We've created this full stream package to celebrate the technologies we love. With a sci-fi influence and minimalist execution this stream package is perfect for streamers needing a professional understated look, but high-end details.
What's included with my downloads?
Glitch Full Stream Package
Includes all items in the Alert and Overlay Package
Glitch Alert Package
Animated designs for Streamlabs and StreamElements + 1-click setup link
Supports Twitch, YouTube Gaming, Facebook and Mixer
Customize text fields and colors with built in controls in Streamlabs and StreamElements
Watch the demo video!
New update – Custom sounds now included
Glitch Overlay Package
Event list – Custom designed with options included
Preset and modular animated overlay elements
Includes .overlay file for Streamlabs OBS
Includes one-click setup link for StreamElements
Panel Designs (PSD included) + Icon Sets
Screen Designs (Starting, Be Right Back, Ending and Intermission – available in English only)
Add ANY background of your choosing to your screen designs
Glitched Scene Transitions – Stingers
View the Overlay setup video guide
Glitch Free Extras
Download:
Go To Base64 & Decode The Hash Code:
aHR0cHM6Ly9hbm9uZmlsZXMuY29tL1QwZmJhZU0xeDcvR2xpdGNoX1BhY2tfYnlfQW5kcmVzQ3JlYXRlc196aXA=

(Backup as many as you can, don't be cheap, save the file to give it extra life)
ENJOY & HAPPY LEARNING!
No Copyright Infringement Intended, All Rights Reserved to the Actual Owner.