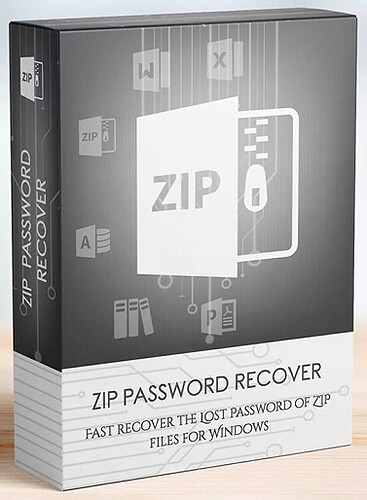 A safe, fast, and easy way to gain full access to the password-protected Zip file. Recover the forgotten password of ZIP files with its completely automatic attack.Zip Password Recover allows users to get the lost password back no matter how strong or complex it is.
This password recovery tool offers 3 strong attack types to guarantee the quickest recovery process.
Features:-
Dictionary Attack-With our in-built password dictionary, you can remove the Zip protection immediately. What's more, you can also build your own dictionary, which will make the recovery process as fast as possible.
Mask Attack-Provide some clues to make the Zip password recovery process faster. If you can remember any part of the password, you can configure the length, capital, and charsets, etc.
Brute Force Attack- Can not remember anything about the password? Try Brute Force Attack. It will take a longer time but with the help of Multi-Core and Multi-Threading technology, the time will be reduced considerably.
Advanced Options- Force letters to lowercase, Force letters to UPPERCASE, Force letters to Titlecase, Remove all whitespace, Initial password length, Password sweep direction, ASCII characters configuration,
Specify the Unicode chars setting.
Software:-
Download - Link
Install and activate the registration key provided in the zip.
Enjoy