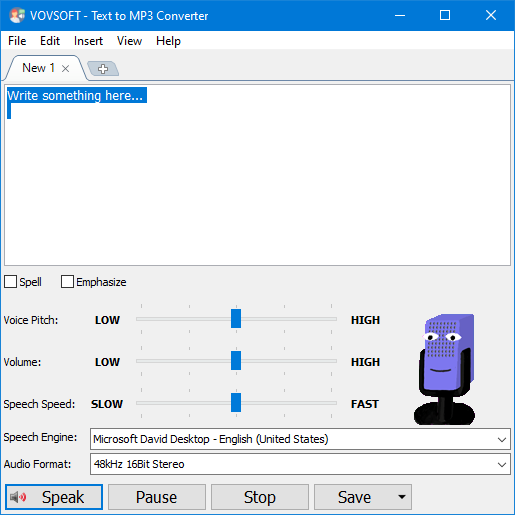 If you have been searching for a text-to-speech software that easily allows you to convert text to speech, please check out the Vovsoft Text to MP3 Converter application. This professional program is designed to help you convert any written text into spoken words. With its help, you are able to view and read some text content without having to actually spend time reading it. This tool provides 2 options for the output audio format WAV and MP3.
Key Features:
Speech speed (fast-slow)
Voice pitch (high-low)
Spell
Emphasize
DOCX to MP3
DOC to MP3
Multiple speech engine support
Read aloud
Insert silence
Voiceover highlighting
Text to MP3
Text to WAV
Supported OS: Windows 11, Windows 10, Windows 8/8.1, Windows 7 (32-bit & 64-bit)
How to get the Vovsoft Text to MP3 Converter license key for free?
Step 1. Download the installer for Vovsoft Text to MP3 Converter version 2.2 –> text-to-mp3-converter.exe text-to-mp3-converter-portable.zip
Step 2. Install the software on your computer and register it with the Vovsoft Text to MP3 Converter license key. Use the below license:
8J2QC-RGZPF-JLTV6
This is a lifetime license
Non-commercial usage
No free updates and tech support
This giveaway is valid until Oct 09, 2022
Enjoy!