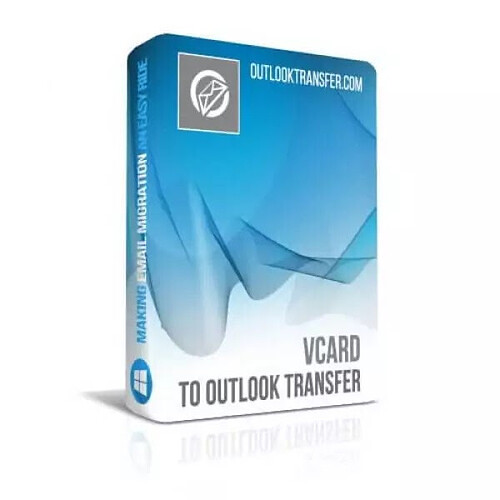 vCard to Outlook Transfer is a uniquely simple and reliable tool for lightning-fast migration of VCF contact files from your hard drive to any major version of Microsoft Outlook. The software supports direct export to Outlook and can also save contacts to a standalone PST file that can be connected to Outlook at any point in time. vCard to Outlook Transfer is so intuitive that you don't need to be too computer-savvy to use it. With just one screen to work with and a couple of buttons to click, it's a perfect pick for novices and professionals alike. Unlike many similar solutions, the program comes with no obligations – that is, you won't need to install any browser add-ons, free software that you don't need, or do anything else. Just install vCard to Outlook Transfer and start converting your contacts!
Now, here is why the program is indeed worth your attention. First of all, vCard to Outlook Transfer allows for batch import of VCF files to Outlook with just one run. You simply scan the selected folder for any vcf containers in it to fill the list of contacts and then tell the program to bulk import VCF to Outlook. Needless to say, this saves a lot of time and helps to consolidate all your contacts in one place without much hassle. Another viable option is direct exporting to Outlook or to a PST file.
Accurate conversion is an icicle on the cake – or the very essence of it, depending on how you look at it. Indeed, when you transfer your important contacts using VCF as a media, you want to be sure that every single contact will find its place in Outlook or the resulting PST file. And here is where vCard to Outlook Transfer really kicks ass. The tool quickly and accurately exports data to any standalone version of Outlook and carefully preserves whatever structure the VCF file had.
Features:-
A lightweight, easy to understand interface for users of any skill level

Fast and accurate conversion of vCard contact files of any structure

Direct output to an Outlook profile or a standalone PST storage file

A compact installation file free of any spy- or malware

Ad-free software – you won't be bugged by banners or reminders of any sort!

Support of subfolders in the source directory and their recreation as groups of contacts

Possibility to select the destination Outlook folder

100% compatibility with all popular versions of MS Outlook for Windows

No additional libraries, SDK's or other components needed

Fully compatible with all major Windows versions and editions, including 64-bit ones.
Software:-
Download - Link
Install and activate it with the license key provided in the zip.
Note:- As it is a giveaway software activate ASAP before it ends.
Enjoy…