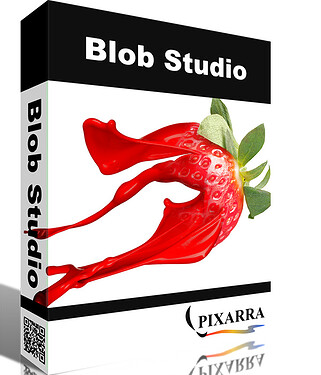 Blob Studio is a product focus on the creation of individual objects that you might use in other Pro Studio or other art software and with a simpler, streamlined interface. The Blob brushes allow you to model and shape your objects and then paint them with the included brushes with the results being crisp lines you might see in illustration software but without the need to mask anything. You can even continue to shape your objects after they are painted.
Giveaway Details
Terms and conditions
This is a 1-computer non-expiring version license, for commercial or non-commercial use
No free updates; if you update the giveaway, it may become unregistered
No free tech support
May not be resold
How to get
Download and install the TwistedBrush Blob Studio by the installer from us (If you download from the developer, it will NOT accept the license key.) After installation, run TwistedBrush Blob Studio and register it with the above license.
Features
Clean User Interface
Modeling Art Style
6 Specialized Primary ArtSets – Model, Styler, Texture, Paint, Pattern A and Utility
5 User ArtSets with 60 brush slots each for storing brushes
Plenty of Textures ready to use
Quick Access Panels
Quick Command Panel
Supported Layers
Solutions – an easy way to select and use predefined sets of filters and actions to accomplish complex tasks
Masks
More…
ENJOY!