Hi, OneHacker's
Anyone who knows about Sublime Text and wanted to use the registered version instead of the free version to unlock the full potential of the software, I have got a license key for you.
Make sure you download the sublime text version > 32xx otherwise the license key won't work. You can use the official link above to download as well.
—– BEGIN LICENSE —–
Member J2TeaM
Single User License
EA7E-1011316
D7DA350E 1B8B0760 972F8B60 F3E64036
B9B4E234 F356F38F 0AD1E3B7 0E9C5FAD
FA0A2ABE 25F65BD8 D51458E5 3923CE80
87428428 79079A01 AA69F319 A1AF29A4
A684C2DC 0B1583D4 19CBD290 217618CD
5653E0A0 BACE3948 BB2EE45E 422D2C87
DD9AF44B 99C49590 D2DBDEE1 75860FD2
8C8BB2AD B2ECE5A4 EFC08AF2 25A9B864
—— END LICENSE ——​
*** Do make sure there is not any additional string before " —– BEGIN LICENSE —– " and after " —— END LICENSE —— ", including any space or carriage return character.
How to Use ? see below.
Download the software.
Go to help and click on enter license.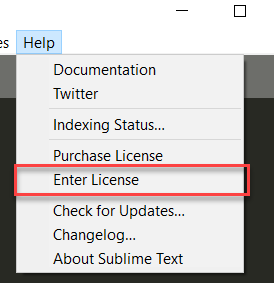 In the enter license popup enter the key and hit "Use License"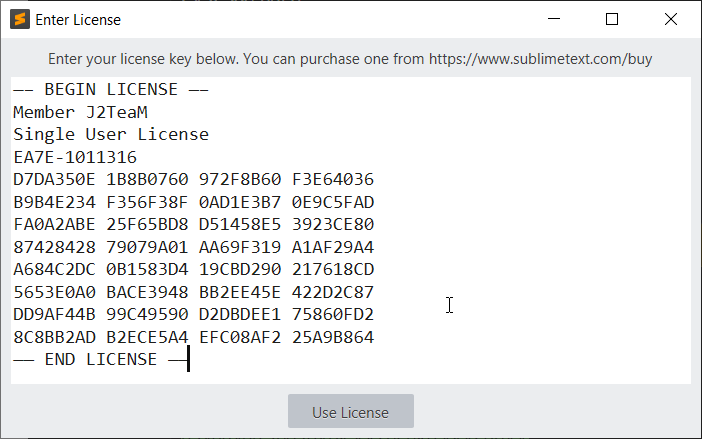 Just after a millisecond, you will get a small popup saying "Thank you for purchasing"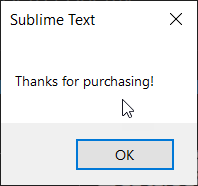 The most important part
Please do follow this so the key does not get blocked and others can use it too. Be considerate of others.
To disable Sublime Text's update check (new version prompt) and license online checking:
Go to " Preferences -> Settings-User / Distraction Free "
Add this line: "update_check": false,
Done!
Add the following lines to your hosts' file:
I am not sure for how long this License Key is going to be valid, so grab fast before the developer blocks it. Sublime is really good software so do support the developer if you want to. ✌️ Enjoy ❤️