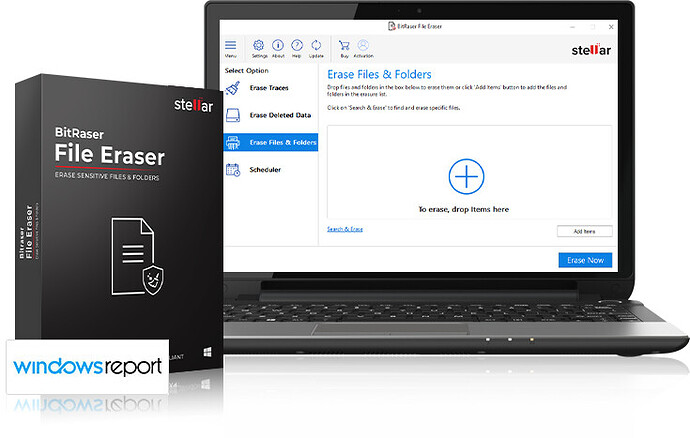 Bitraser File Eraser from Stellar is a file eraser software that is designed to permanently delete data and its traces from your laptop, desktop or any storage media beyond the scope of recovery. This software is an idea for users who want to total erasure of data that remains in their computers. By using BitRaser for File, your confidential and sensitive information such as contacts, bank accounts, credit card details, etc will be totally deleted.
Features
Erase data from selected drives.
Manual & automatic file erasure process
Wipes installed applications' traces, system & internet activity traces
Option to wipe unused drive space
Supported OS: Windows 10/8/Vista/7/XP
Get Stellar Bitraser File Eraser Activation code for FREE
Step 1. Go to the GIVEAWAY PAGE
Enter your name and email then submit
Step 2. Check your mailbox for verification, a Bitraser File Eraser activation key will be sent to your e-mail address
Step 3. Download the installer here: BitRaserFileEraser.exe
Install this software on your computer:
Activate it by the above activation code:
Step 4. Enjoy Stellar Bitraser File Eraser for 6-month free!
This is 6 months license code for version 5.x
Non-commercial use
No free update or tech support
Enjoy!