ShootMyApp is a web tool to create custom images for your app store pages. It's an intuitive one-page editor where you select a predesigned template, upload app screenshot, add a caption, change colors & download images in all required resolutions, which can be directly used on app stores. No designer experience needed here.
Features :
Customize Colours, Layouts & Backgrounds
You have the right to fully customize your screenshots you can change the colors, backgrounds, fonts, sizes, and more…
Use awesome Backgrounds & Font styling
Add your message, tweak the colors, choose a background, or make your own to generate your awesome Google Play images.
An easy-use & one-click edit mode for all settings like colors, texts, backgrounds, fonts… with instant preview of changes.
Predesigned Templates & Devices
Select the best from dozens of predesigned Templates & Devices for Android to create your own trendy Google Play image.
Shoot My App provides the best prices for making screenshots starting from 2$ and a maximum of 10$ with fast delivery and high quality.
Shoot My App export screenshots in less than 1 minute after the payment so you don't have to wait for more…
Screenhsots:
How to use Shoot my app for free?
Step 1: Create your free account and create your first app and set the pack = 5 to use all templates
Step 2: Add/edit your screenshots when you finish go to Apps Page and from the menu choose Export
Step 3: Now click Or use a coupon code and enter Onehack.us then click Apply coupon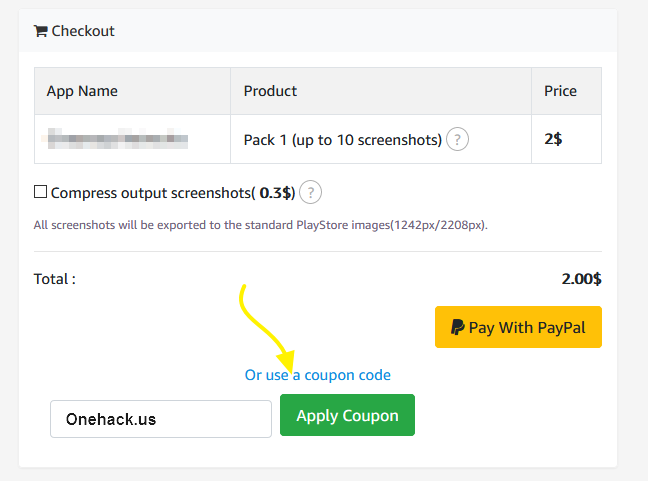 Step 4: Now click Export Screenshots for free
Step 5: Now you will receive a notification in your account or via email to download your screenshots
The coupon code is available until 15/11/2020.
Use this coupon to get 50% OFF all plans when the promo expire: 50OFFPROMO