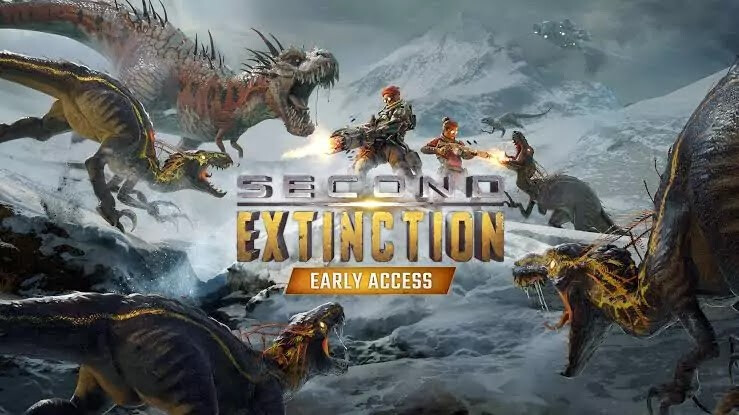 Note:-This game is available for free till December 22, 2021, at 09:30 PM.
EARLY ACCESS IS JUST THE BEGINNING
The goal of Early Access is also simple: Work with our community to make the best game possible.
We want to hear your feedback loud and clear, and we intend for our community to be a vital part of the development process.
Even so, there's plenty to get your teeth (and claws) into from day one: 6 heroes, 12 weapons (with 5 upgrade tiers each), and 6 missions - plus some special side quests - across multiple regions of our big map.
JOIN THE WAR EFFORT, SHAPE THE FUTURE
Our mantra is that players win battles, communities win wars. Nowhere is this more true than our War Effort feature. Each region of our big map has a unique threat level. This threat level can be
lowered if enough of our players are successful in their missions and activities. But the dinosaurs aren't resting either, and they'll focus their efforts where you aren't.
Each week the community will see the fruits of their labors or feel the
consequence of their incompetence. Let the threat level get out of control and you can expect an especially tough Emergence Event to be waiting for you.
Specifications:-
WINDOWS
Minimum
OS-Windows 10 (64-Bit versions)
Processor-Intel Core i5-3570 or AMD Ryzen 3 1300X (Quad-core is minimum)
Memory-12 GB RAM
Storage-30 GB available space
Graphics-Nvidia GTX 780 3GB or AMD R9 280 3GB
Recommended
OS- Windows 10 (64-Bit versions)
Processor- Intel Core i7-4770 or AMD Ryzen 5 1600X
Memory-16 GB RAM
Storage-50 GB available space
Graphics-Nvidia GTX 1070 8 GB or AMD Vega 56 8GB
Other-Requires a 64-bit processor and operating system
Languages Supported
Audio: English
Text: English, Spanish - Spain, Japanese, Chinese - Simplified, German, French, Russian, Portuguese - Brazil
The process to get:-
Visit Second Extinction giveaway page
Click on Get.
Log in to your Epic Game Store account. Click on Place order.
On successful order, you will get a receipt in your email. Download Epic Game Launcher, install it on your computer to access your game.
Enjoy!