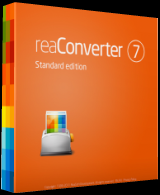 A Better Way to Handle Your Images
Flexible, Smart, and Very Fast. Understandable on a hunch, reaConverter makes batch conversion and oft-recurring image editing simple.
Features:-
Versatility - As well as handling every conceivable format you may encounter, reaConverter also provides a command-line utility allowing you to process images automatically.
Power - And of course, we've added all the most useful features, such as image editing and the most efficient batch processing in any software of this type.
The process to get the license key:-
Visit the Link
Enter your name and email address and click on Get for free. As you click you will get your license key.
Software:-
Download - Link
Install and activate with the last license key you got.
Note:- As it is a giveaway software activate ASAP before it ends.
Enjoy