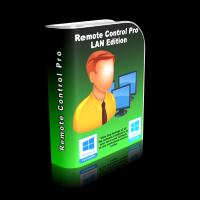 Remote Control Pro LAN Edition is the perfect intranet remote desktop software. The program allows tou to view and remotely control every computer in your Local Area Network.
Register here to get your free license.
Don't use fake e-mails because if you do you will not be able to request keys. Fake e-mails are removed from time to time.
You have 7 days to register your first giveaway license copy. If you miss the deadline your license will be invalidated. If you register your giveaway license within the first 7 days then you will be granted KEYs for up to 10 different computers.
Future updates for your giveaway license will not be free.
This software is exclusive for PC Windows 7, 8, 8.1, and 10.
Giveaway: link
Download: RemoteControlProLANEditionInst.exe
Download: http://www.pcwinsoft.com/pc-activity-viewer/clients.asp
Enjoy!