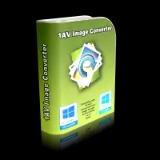 1AV Image Converter opens and converts 100+ different formats. If you have an image file you can't open there is a good chance you can open it with Power Image Converter. Check the complete list of supported formats further below.
Power Image Converter supports all common image formats plus PDF, Microsoft ICO, PCX, TGA, TIFF, WEBP, and a lot more.
1AV Image Converter works for batches of photos. Power Image Converter is a batch photo resizer, a photo to pdf converter, you can batch convert photos to black and white, rotate them, change brightness, hue, and saturation, watermark text over photos, watermark transparent images over photos, and flip them.
Power Image Converter is an image file converter, a batch photo resizer, a photo to pdf converter, and much more with plenty of batch operations to rank this tool up high in the photo converter software free market.
Supported formats are:
JPG, PNG, GIF, BMP, TIF, TIFF, ICO, PDF, DPX, J2C, J2K, JP2, PAM, PBM, PCX, PGM, PPM, RGB, SGI, TGA, WEBP, XBM, YUV, VIFF, WBMP, WMF, WPG, XCF, XPM, AAI, ART, ARW, AVS, BPG, BRF, CALS, CGM, CIN, CMYK, CMYKA, CR2, CRW, CUT, DCM, DCR, DCX, DDS, DJVU, DNG, EMF, EPDF, EPI, EPS, EPS2, EPS3, EPSF, EPSI, EPT, EXR, FAX, FIG, FITS, FPX, GPLT, GRAY, HDR, HPGL, HRZ, JBIG, JNG, JPEG, MAN, MAT, MIFF, MNG, MRW, MTV, MVG, NEF, ORF, OTB, P7, PALM, PICT, PIX, PNM, PSD, PTIF, PWP, RAD, RAF, RGBA, RFG, RLA, RLE, SCT, SFW, SUN, SVG, TIM, UYVY, VICAR.
Main Features:
Support for 100+ formats input and output

Image to pdf converter

Convert photo to jpg

Convert photo to png

Convert photo to black and white

Batch image resizer.

Batch flip, rotate, watermark, change saturation, brightness, and hue.
Extra features:
Batch mode with preview. View over 100+ image formats.

Extra fast conversion even for large batches of photos.
The process to get the License:-
Visit the Link
Enter your First Name, Last Name, and email address two times. Type the text shown and click on "Next".
On the next page, you will get the download link of the software. Download the software from there or just click here.
Software:-
Download - Link
Step-by-step process to get license key:-
Download and install the software then click on Trial dialog > Click 'Register' > Mark 'Send key to my e-mail' > Click 'Next' > Then enter the e-mail address you used to register > Then click 'Send'.
The key is sent to your e-mail address.
After you receive the key you go:
Trial dialog > Click 'Register' > Mark 'Enter key' > Click 'Next' > Then enter the key you have received on your e-mail > Then click 'Authenticate'.
Note:- You have 7 days to register your giveaway license copy.
Enjoy!