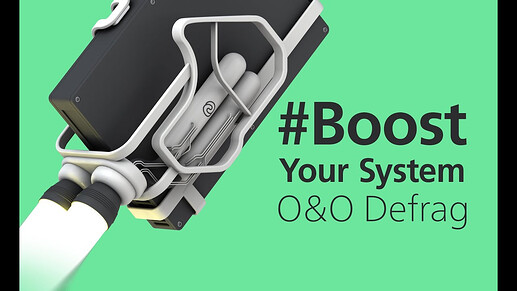 Get your free O&O Defrag 20 Professional license. The software speeds up the computer as much as possible, prolongs the life cycle of hard drives and provides effective data protection
O&O Defrag improves system performance and also detects junk files that take up disk space with the built-in O&O DiskStat tool. The product is compatible with all modern versions of Windows.
O&O Defrag 20 functionality has been greatly expanded. The program can now detect more objects that slow down the system and are not affected by standard defragmentation. O&O Defrag 20 has a simplified and improved user interface that lets you easily perform many actions. The new combined DiskStat tool shows exactly the disk space. This fact sheet helps you locate and delete unnecessary files.
The new version received enhanced high contrast mode to facilitate the recognition of objects on the screen. Variable screen resolution is also acceptable when using O&O Defrag 20.
Even in the era of solid-state drives, regular maintenance and system optimization play a key role. O&O Defrag 20 not only applies to TRIM optimization, but also helps save space with a few mouse clicks, or automatically at a specific time.
O&O Defrag 20 also applies virtual machine optimization. The product defragments the virtual machine and the files on the host system to ensure optimal performance of the virtual machine.
Thus, O&O Defrag 20 allows you to detect garbage objects, temporary and unnecessary files, and optimize hard drives and solid-state drives.
New and improved O&O Defrag 20 features
Defragmentation methods STEALTH, SPACE and COMPLETE. Speeds and space are optimized for the highest defragmentation speed, while COMPLETE means defragmentation more thoroughly. The COMPLETE method requires more time and memory. Optimal use of the current space also prevents further fragmentation. All methods can be applied to any disk, including buffers, partitions, and volumes distributed via array discs, all of which ensure maximum reliability.
-O & O DiskCleaner. Search and delete temporary and unnecessary files that use memory and increase fragmentation. O&O DiskCleaner improves data protection and system security because these files usually contain personal data (image thumbnails, copies of documents, e-mail drafts, and dumps).
-O&O DiskStat. Limited storage has become a problem for many modern laptops. O&O DiskStat provides a quick overview of how to use your hard drive. Users can easily find files and folders that take up much space on your hard disk and slow down system performance. This versatile tool has a Windows Explorer-style interface and a wide range of features to find garbage objects.
Insert your Email and get license via email: https://www.oo-software.com/de/special/tz119
Event: Giveaway
Instructions: Terms of supply
-Get a lifetime license for version 20.
Free software updates are available for 20.x versions
One computer license is granted for home use only
-The software is available with English interface
-You can install / reinstall after the end of this offer. To do this, save the registry data.
Important information
Please note that due to many requests for this promotion, it may take some time to create a personal license.
If you haven't received your license by email, check your spam folder.
ENJOY & HAPPY LEARNING!