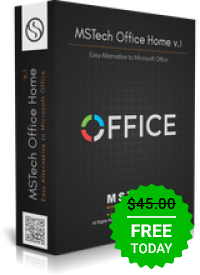 MSTech Office Home is an alternative to MS Office, with all tools you need to compose your documents, create your tables, charts, graphs and calculations, and read your PDF files. This software includes MSTech Words, MSTech Spreadsheet and MSTech PDF Reader.
Giveaway details
Terms of the offer
Giveaway version
This is lifetime license for 1PC
Non-commercial use
No free updates; if you update the giveaway, it may become unregistered
No free tech support
Register before this offer has ended
source winningpc
Instructions
Download the above zip file, install MSTech Office Home on your computer then activate it by the following license code. (You need to enter your name, email, license code then activate online method)
Feature Highlights
Font and Paragraph Styles
Tables, Pictures, Bookmark, Hyperlink
Header & Footer
Page Numbers & Table of Contents
Page Layouts (Column, Break, Size, Orientation, etc.)
Cell Format & Styles
Formulas and Calculations
Images, Insert & Modify Charts
Review & Comments
Sheet & Workbook Protection
Support Password Protected PDFs
Ability to Search in PDFs
Enjoy!