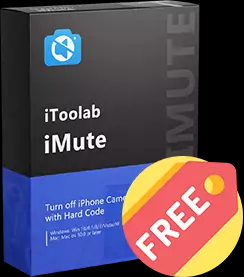 Turn off iPhone Camera Sound with Hard Code.
Features:-
Disable shutter sound on iPhone to avoid embarrassment.
Remove Japanese and Korean iPhone shutter sound.
Fully support iPhone 5S - iPhone X with iOS 12-14.8.
Remove the camera sound without losing any data.
The process to get the license key:-
Visit the iToolab iMute giveaway page
Enter your name & email address, then click on submit. You will receive an email containing the license key and download link.
Software:-
Download Links - iToolab iMute For Windows iToolab iMute For Mac
Install and activate it with the license key you received in your email.
Note:- As it is a giveaway software grab and activate ASAP before it ends. Giveaway ends on 30th November 2021.
Enjoy!