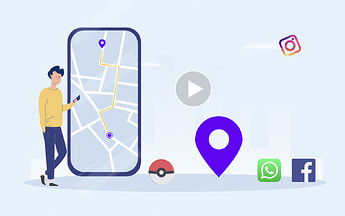 [Giveaway] iToolab AnyGo for Android | 3 Months License
On an Android device, there are many reasons to lie about your location, from playing mobile games to tricking Netflix. iToolab AnyGo for Android is a professional Android GPS spoofing app that provides the function of enhancing your AR gaming experience with Pokemon GO. This tool allows you to fake your GPS location with utmost precision.
This GPS location spoofing app is easy to navigate and boasts a simple user interface, making you seamlessly teleport to any desired location of your choice. You also are allowed to access unique Pokemon and explore distant territories within the game without leaving the comfort of your home. Additionally, you have the choice to quickly synchronize your actions with iToolab AnyGo for Android. When you come across rare characters on your walk, you can always pause to make sure you don't miss them.
Key Features:
iToolab AnyGo for Android provides you with the option to the virtual location in a location-based game with one click
You can use the help of this app to spoof location directly without switching to other apps.
This GPS spoofing app for Android helps you simulate natural movements without lagging issues.
It will display the distance between two points or the travel time required to get there.
You also can simulate speed based on cycling, driving, and walking activities
Supported OS: Android 7.0, Android 8.0, Android 9 Pie, Android 10, Android 11, Android 12, Android 13.
How to get the iToolab AnyGo for Android license key for free?
Step 1. Visit the GIVEAWAY PAGE
Please enter your first name, last name, and Email address then click on the blue "GET LICENSE" button
Step 2. Please check your inbox in a few minutes to get iToolab AnyGo for Android license code
Step 3. Download and install the software on your Android devices then use the above license code to activate it.
Three months license
Free updates and tech support
Register before July 28, 2023 GMT+0 08:00
Enjoy!